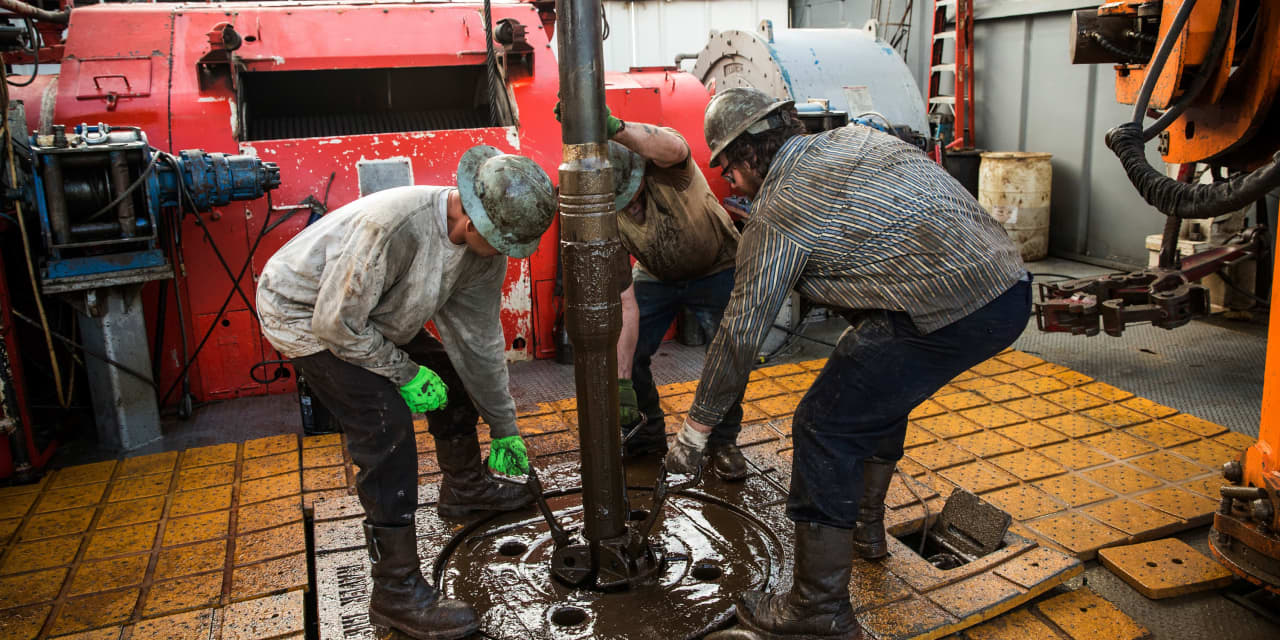 Oil futures finished lower on Friday, with weakness tied to some worries over the global economic outlook, but prices tallied weekly, as well as monthly, gains as energy demand looked to pick up in developing countries.
Oil prices ended the month with a solid gain as "mostly upbeat economic data and good earnings results suggest the global recovery is gaining traction and potentially accelerating, which in turn has bolstered the demand outlook," said Tyler Richey, co-editor at Sevens Report Research.
"A few optimistic analyst reports from major investment banks also helped oil prices rally this week, but soft overseas economic data paired with end-of-month book squaring" both weighed on oil prices Friday, he told MarketWatch.
There is a risk that the Organization of the Petroleum Exporting Countries and their allies, together known as OPEC+, "move too quickly to restore output towards pre-pandemic levels," Richey said. "However for now, those risks are low given the cautious rhetoric from leadership of the global group of oil producers."
OPEC+ met on Tuesday, a day earlier than scheduled, and decided to keep its plans to gradually raise output from May through July.
West Texas Intermediate crude for June delivery CL00, -2.18% CLM21, -2.18% fell $1.43, or 2.2%, to settle at $63.58 a barrel on the New York Mercantile Exchange. Based on the front-month contracts, WTI saw a 2.3% weekly rise and an April gain of around 7.5%.
On its expiration day, the June Brent crude contract BRNM21, -1.90% fell $1.31, or 1.9%, to end at $67.25 a barrel on ICE Futures Europe. It rose 1.7% for the week and 5.8% for the month.
July Brent BRN00, -0.01% BRNN21, -0.01%, the most active and soon-to-be front month contract, lost $1.29, or 1.9%, to finish at $66.76 a barrel.
Concerns over rising COVID cases were "raising their head again" on Friday, said Sophie Griffiths, market analyst at Oanda, in a note. "The COVID crisis in India, the world's third-largest importer of oil, continues to escalate and, in fact, shows no signs of abating."
India reported 386,452 new cases in a single day, breaking a record it set a day ago, according to the Indian Health Ministry, and 3,498 deaths.
However, "global oil demand is set for a massive boost in the coming months that will offset Indian demand losses and OPEC's supply come-back, and that is why prices have been mostly rising during the week"" said Bjornar Tonhaugen, head of oil markets at Rystad Energy.
"U.S. consumers are a major reason markets remain bullish," he said, in a note. "China and the U.S. locomotives are far outweighing the size of the Indian slowdown."
In the worst case, India can lose half of its 4.8 million barrels per day of oil consumption temporarily, and "see a longer U-shaped demand recovery than the 1.0 million bpd demand loss impact we project for May," Tonhaugen said. "But the Chinese and U.S. oil demand recovery in the next 3 months alone will be above 1 million bpd and net the India demand loss out."
China's official manufacturing purchasing managers index declined to 51.1 in April from 51.9 in March, according to data released Friday by the National Bureau of Statistics. The reading was much lower than the 51.6 median forecast expected by economists polled by The Wall Street Journal, but remained above the 50 level, marking an expansion in activity.
Data showed the eurozone economy shrank at the beginning of 2021 for the second consecutive quarter, entering its second technical recession in a year.
That said, strong economic data out of the U.S., including a rise of 4.2% in March consumer spending, and expectations for strengthening activity around the world in coming months has helped crude rally in April.
Read: 'Summer scramble' for gasoline on tap amid tank-truck driver shortage
"With the U.S. economy firing up on all cylinders, the oil demand outlook is strengthening. Oil markets have been focused on the rising demand story, which it believes will offset any OPEC+ agreed rise in output from May," Oanda's Griffiths said.
Petroleum product prices on Nymex also ended lower Friday, but scored monthly gains.
May gasoline RBK21, -1.51% fell 1.4% to $2.0698 a gallon, ending about 6% higher for the month, while May heating oil HOK21, -2.07% shed nearly 2.1% to $1.9211 a gallon, for an 8.5% rise for the month. The May contracts expired at the end of the day's session.
June natural gas NGM21, +0.82% settled at $2.931 per million British thermal units, up 0.7% Friday, for a monthly rise of over 12%.
This article was originally published by Marketwatch.com. Read the original article here.