Fund managers fear that a systemic credit crunch is the biggest tail risk this month, Bank of America strategists have said following data from their latest poll.
The bank's latest global fund manager survey found 31% of the 212 fund managers polled elected systemic credit crunch as the biggest threat to markets, followed by 25% choosing stubborn inflation as the largest tail risk.
The most likely sources of a credit event, participants say, are U.S. shadow banking, U.S. corporate debt and developed-market real estate.
The participants, which manage $548 billion under management, were surveyed between Mar. 10 -16, in the midst of the bank panic when Silicon Valley Bank SIVB, , followed by Signature Bank SBNY, -22.87%, collapsed.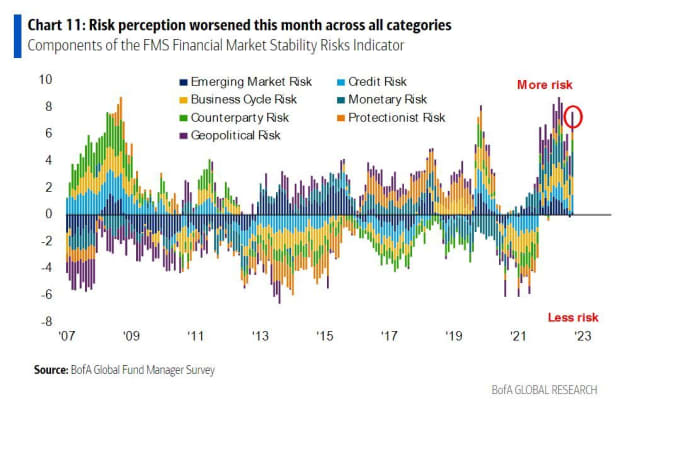 Regarding interest rates, investors see an additional 75 basis points of Federal Reserve rate hikes in this cycle with rates peaking at 5.25%-5.5%. Almost a quarter expect the European Central Bank to lift its deposit rate by an additional 50 basis points. Almost two thirds (65%) say the Fed will not raise its 2% inflation target over the next 2 years. And nearly six in 10 (57%) investors expect lower short-term rates in the next 12 months.
Read: Elon Musk says Fed should cut interest rates by half-point after Bill Ackman asks for pause
Michael Hartnett, BofA investment strategist, said in the report that investor sentiment is near "levels of pessimism seen at lows of past 20 years" and the S&P 500 index SPX, +1.06% could see a floor of 3,800 and investors should look to fade any rallies when the index benchmark hits between 4,100 and 4,200.
The S&P 500 is down 3% in the last month and has gained almost 3% so far this year.
Additionally, investor fears of a recession are stronger than last month. Over four in 10 (a net of 42%) of fund managers say a recession is headed in the next 12 months. As these concerns grow, more investors (55%) are urging corporates to improve their balance sheets.
The survey also found fund managers are more bullish on Eurozone stocks than U.S. stock, the most overweight they have been on Europe since October 2017. They added that the most crowded trades include long European equities, long U.S. dollar and long China equities.
In the past month, investors rotated out of stocks in the banking, consumer, and REITs sectors, the report said, but they have dived into Eurozone stocks, staples, and bonds.
This article was originally published by Marketwatch.com. Read the original article here.