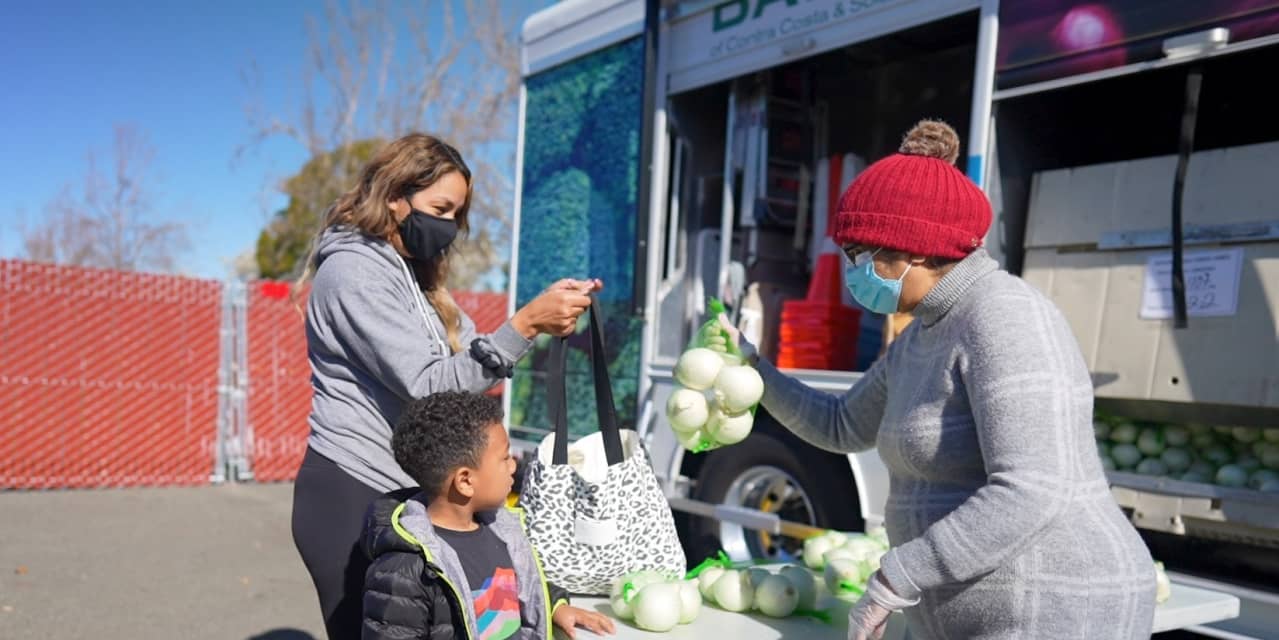 Linda Palmer usually sees a couple of hundred people line up for bags of produce, milk, eggs and more as she volunteers at her local food bank's biweekly, hourlong distribution in the parking lot near the senior center in Hercules, Calif. But as she helped people sign in during one recent shift, she said, "we had almost 400 people."
"We went overtime," Palmer said. "We don't turn people down."
She said she has seen plenty of families with children, seniors and others looking for help. "Every give-out, there's five or six new people," said Palmer, a retired 74-year-old who enjoys "dancing around and getting people hyped up" at the distributions. The food bank plays music and tries to put people at ease, she said, even though the circumstances that brought them there might be weighing on their minds.
Food banks across the country have seen demand for their services skyrocket because of the pandemic's economic impact. The number of people served every month by the Food Bank of Contra Costa and Solano, where Palmer volunteers, has doubled during the pandemic from 175,000 to 350,000. Now, as the last of the federal increases in pandemic-era benefits expire and as the federal government has declared an end to the COVID-19 emergency, food banks say there's another emergency.
From the archives (March 2023): End of COVID-era SNAP benefits puts strain on seniors and low-income families as food costs soar
"We're transitioning from a pandemic crisis to a hunger crisis," said Vince Hall, the chief government-relations officer for Feeding America, a network of food banks, food pantries and meal programs across the United States. "It is uncommon in the history of food banking to have record-low unemployment coupled with record-high food distributions."
U.S. unemployment in April stood at 3.4%, matching a 54-year low seen in January. Meanwhile, about 65% of food banks that responded to Feeding America's most recent survey reported seeing similar or increased demand for food aid from February to March. That goes hand in hand with food insecurity, or households' limited or uncertain access to adequate food, being at its highest level in the U.S. in four years, according to the latest survey findings from the center-left Urban Institute.
Grocery prices have trended downward in recent months as overall inflation has slowed; food-at-home prices inched down slightly between March and April. Still, they were up 7.1% in April over the past 12 months.
Joel Sjostrom, the chief executive of Food Bank of Contra Costa and Solano, said that in the two counties his food bank serves, one in five residents is now facing food insecurity, compared with one in nine residents before the pandemic. He is bracing for food-assistance demand to rise further because of the recent expiration of extra payments for CalFresh, California's version of the federal Supplemental Nutrition Assistance Program (SNAP), saying about 75,000 households in the two counties the food bank serves are seeing their benefits "dramatically reduced."
At the pandemic's onset in March 2020, the Department of Agriculture allowed states to give SNAP recipients emergency allotments, or extra benefits. In some states, those benefits expired as early as a year later. The last of the benefits expired this past March in some remaining states, such as California.
"We really only have one month of experience with the sunsetting of SNAP benefits, but we've seen a 15% to 20% increase in calls asking, 'Where can I get food?'" Sjostrom said.
See: Grocery prices are rising more slowly, but food insecurity is surging among low-income Americans
Also: Food insecurity in America reaches the highest level in four years
Food banks in other states — such as Georgia, which ended emergency allotments in May 2022 — already have several months' worth of experience with extra SNAP benefits going away.
The CEO of the Atlanta Community Food Bank, Kyle Waide, said demand for his food bank's services peaked at the beginning of the pandemic, then dipped as the federal government boosted benefits, such as advance child tax credit payments and free school meals. Since the state's emergency SNAP benefits expired — and because of inflation — the demand has returned to that same peak. At his food bank, that means a 40% increase in the number of monthly visits compared with before the pandemic, and almost 10 million pounds of food distributed each month.
"The actual underlying pressure … on low- and moderate-income families is greater now than I've seen in the last decade," Waide said.
The pressure on food banks — which rely on donations, the government and their own food purchases — is compounded by higher food prices, which are hitting both food banks and the government. In addition to providing funding for food-assistance programs, the government also buys food for distribution to food banks. Every dollar the government is spending on food is providing less food than it did two years ago, Waide said; plus, the government is "trying to get out of crisis mode" and is buying less food than it was two years ago.
"All of that is forcing us to purchase more food," Waide said. "We're buying about four times the amount of food [that] we did prior to the pandemic."
"'Right as our demand is increasing, our community of donors is also facing impacts of inflation.'"
— Jill Steele, a member of the board of the Food Bank of Contra Costa and Solano
Another worry for food banks is a possible decline in donations. Waide said there's a risk of donor fatigue: "I just worry that people are getting numb to it and will kind of lose a sense of urgency around responding to what continues to be a real crisis," he said.
Jill Steele, a member of the board of the Food Bank of Contra Costa and Solano, added that "right as our demand is increasing, our community of donors is also facing impacts of inflation." Layoffs in the San Francisco Bay Area and cost-cutting by companies could affect donors, Steele said.
So food banks are trying to keep their communities informed and engaged. They're contacting donors and volunteers and letting them know the need is greater than ever. They're working with elected and government officials and advocating for additional funding and policy changes in the farm bill, which covers nutrition and agriculture programs, and is usually renewed every five years and affects funding for the next decade. The bill includes funding for SNAP and The Emergency Food Assistance Program, or TEFAP, both of which are important to food banks.
Hall, the Feeding America government-relations officer, said that among other things, his group is urging Congress to increase funding for TEFAP, and to make SNAP more accessible in different ways.
"We've been advocating … that [policies be changed to] allow people to use SNAP benefits for cooked food," Hall said, adding that SNAP recipients "deserve compassion and dignity to be served hot meals."
The usually bipartisan farm bill could be endangered by the political wrangling over the debt ceiling. Republicans want spending cuts in return for raising the limit for government borrowing, while Democrats do not.
"We know that there is a need to cut to find ways to balance [the] budget and reduce deficit," said Waide of the Atlanta food bank. "But what we're seeing on the ground is an emergency. When there's an emergency, it's not time for austerity."
This article was originally published by Marketwatch.com. Read the original article here.