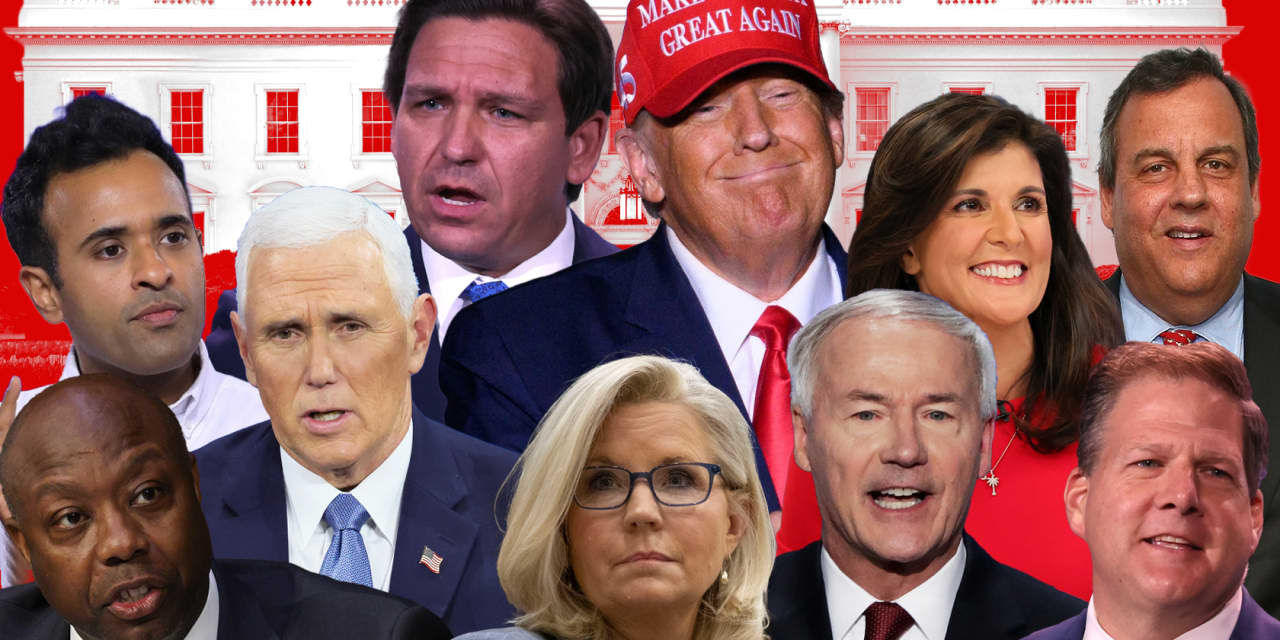 The contest to become the Republican Party's 2024 presidential nominee is heating up, with Florida Gov. Ron DeSantis reportedly poised to have an official launch for his campaign next week.
See: DeSantis to officially launch presidential bid next week: WSJ
Also read: As legislative session ends in Florida, it's decision time for DeSantis
Former President Donald Trump formally kicked off his White House campaign in November, and among the other Republicans who have announced their 2024 bids are Nikki Haley, a former U.S. ambassador to the United Nations, as well as former Arkansas Gov. Asa Hutchinson and longshot candidate Vivek Ramaswamy.
The first official debate of the GOP presidential primary is slated to be held in Milwaukee in August.
On the Democratic side, President Joe Biden kicked off his re-election campaign in late April, with the move coming even as most Americans don't approve of his performance. The president is talking up the strong job market and his legislative record.
Below is MarketWatch's list of potential Republican presidential contenders and the status of their candidacies.
| | | |
| --- | --- | --- |
| Name | Title | Reports or statements on candidacy |
| Greg Abbott | Texas governor | Abbott strategist said governor "will take a look at the situation" after state's legislative session ends in late May, but Abbott has passed on speaking in Iowa, a key state |
| John Bolton | Former national-security adviser, former ambassador to United Nations | He has said he may run for president in 2024 |
| Liz Cheney | Former Wyo. congresswoman | She has said she hasn't made a decision about a 2024 run, but has run a TV ad in New Hampshire, a key state |
| Chris Christie | Former N.J. governor | He said in late March that he'll make decision on a run in the next 60 days |
| Ted Cruz | U.S. senator from Texas | He said he won't seek the GOP presidential nomination, instead aiming for re-election in Senate |
| Ron DeSantis | Florida governor | He looks poised to announce his bid in around May 25 |
| Larry Elder | Conservative radio host | He announced his run in April |
| Nikki Haley | Former ambassador to United Nations, former S.C. governor | She announced her run in February |
| Larry Hogan | Former Md. governor | He said in early March he won't run |
| Asa Hutchinson | Former Ark. governor | He said in April that he's running |
| Brian Kemp | Ga. governor | He said in March that he's not running |
| Kristi Noem | S.D. governor | She has said she hasn't ruled out a presidential run |
| Mike Pence | Former vice president | A new super PAC is supporting his expected candidacy, and his announcement could come in June |
| Mike Pompeo | Former CIA director and secretary of state | He announced in April that he has decided against a run |
| Vivek Ramaswamy | Entrepreneur and author known for criticizing ESG investing as "wokeism" | He announced his candidacy in February |
| Mike Rogers | Former Mich. congressman | He suggested an announcement on a run may come in "late spring, early summer" |
| Tim Scott | U.S. senator for S.C. | He said he'll make an announcement on May 22 |
| Francis Suarez | Mayor of Miami, Fla. | He tweeted on May 12 that "big decisions" are ahead for him about a possible run |
| Chris Sununu | N.H. governor | He said he plans to decide around mid-June |
| Donald Trump | Former president | He announced in November that he's running |
| Glenn Youngkin | Va. governor | He said he won't campaign to be president this year, but reportedly hasn't made a decision on a run |
The list above features relatively high-profile names, but there are lesser-known GOP presidential hopefuls as well, such as Aaron Day, who is known in part for his 2016 run against former New Hampshire GOP Sen. Kelly Ayotte; Perry Johnson, a former gubernatorial candidate in Michigan; Steve Laffey, a former Cranston, R.I., mayor; and former Montana Secretary of State Corey Stapleton.
Democrats seem to be closing ranks behind Biden, although author and activist Marianne Williamson said she's seeking the party's nomination again and vigorously defended her decision to challenge the president in an extensive question-and-answer session with MarketWatch. Anti-vaccine activist Robert F. Kennedy Jr. also is mounting a longshot challenge to Biden, as he held a kickoff event for his campaign in April.
Now read: Nikki Haley says 'no Republican president will have the ability to ban abortion nationwide'
Also: Biden criticizes DeSantis over his Medicaid stance while in Florida
Robert Schroeder contributed to this article.
This article was originally published by Marketwatch.com. Read the original article here.