Dear Fix My Portfolio,
I am 78 years old and have been a long-term care policyholder for approximately 20 years. My premiums started around $1,500 per year. The annual rate was scheduled to increase every five years. By the time I was 75, it was up to $5,000 a year. I was assured the next increases would be when I was 80 and then 85.
Imagine my horror when I got a bill recently for a one-year renewal for $8,500!
When I called, I was told that my state allowed increases due to the company's unanticipated costs. How can they do this? I have been paying them for 20 years so I would have coverage when I need it and now I can't afford the premium. I'll lose all the money I put in for so long, and I'll end up with no coverage. Is there anything I can do?
Grammy Kathy
Got a question about the mechanics of investing, how it fits into your overall financial plan and what strategies can help you make the most out of your money? You can write to me at beth.pinsker@marketwatch.com.
Dear Grammy Kathy,
It must have been quite a shock to see that bill for a premium renewal that bumps the price up 70%. It's a lot of money to consider spending for a year for long-term-care insurance, which covers you for in-home attendants or nursing homes, especially when you're not sure when, and if, you're going to need to make a claim. When faced with this scenario, many people think about dropping their coverage.
If your main concern is your return on investment, think about this: The $3,500 price increase represents a little more than one week of at-home care or in a nursing home, in most places – if even that.
This is what drives most people to find a way to keep their policies – which, ironically, drives up prices even more. Over the years, the industry priced policies expecting a certain number of people to drop out, and they didn't. So they face more claims these days than they budgeted for, plus healthcare costs have climbed significantly – those "unexpected costs" your state mentioned.
"The industry estimated 4% would drop out, and a third to a half of those left would go to claim, but people understood the value of the policies and did not cancel them," says Jesse Slome, executive director of the American Association for long-term-care insurance, an industry trade group.
Weigh your choices
You don't have to lose your policy completely if the premium gets too expensive for you. Most companies will allow you to renegotiate your policy features to lower the premiums. It works much the same way that it does for your homeowners and car insurance, when you change the parameters of your deductible or your coverage limits and it lowers the price.
Genworth, one of the largest long-term-care insurance providers, says you may be able to adjust your coverage by "reducing the total amount of benefits available to pay for care, reducing the length of time benefits last, modifying any inflation protection you may have, and/or increasing the amount of time before benefits begin."
Slome says you best chance of getting a price reduction is if you currently have an "unlimited" policy, meaning you can make a claim for benefits that last indefinitely, and shift it to a limit of 3 to 4 years. Another way he suggests it to lower the inflation-adjustment, if your policy has one.
"If you started 20 years ago with a benefit that provides $150 a day for care, and that grew at 5% over 20 years, today, that's an enormously rich plan," Slome says.
You also have a choice to stop paying but not lose the money you put in – which is very different from other kinds of insurance. Genworth, for one, allows customers who qualify to pause their accounts and make claims on the amount they've paid in so far if you got sick. So if you've been paying in for 20 years, and have $40,000 or so in premiums paid, you'd have that much available to you in care, and you wouldn't actually lose any money.
Given these options, a majority of people opt to pay the premium increase, says Slome. Some 20-30% opt to pay less, and 10-20% go for the nonforfeiture option. Only about 1% stop paying and drop out completely, he says.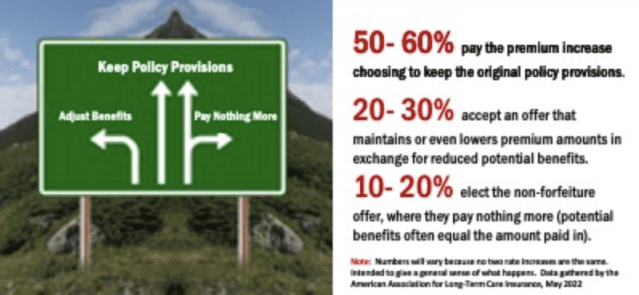 If you're leaning toward keeping your policy where it is right now, you might want to consider asking family for help in order to afford it. Larry Pon, a certified public accountant and financial adviser based in Redwood Shores, Calif., advised one family in this situation and they decided it was time to have a conversation about how the matriarch and patriarch were going to afford their care. The kids decided to chip in and help now because it would mean lowering their costs down the road.
You know your own situation and possible future health conditions best, so you can look at the features in your current policy and see if there are any that you can lessen to adjust the cost. "Nobody likes paying more, but the most accept one of the options, because some is always better than none," says Slome.
This article was originally published by Marketwatch.com. Read the original article here.