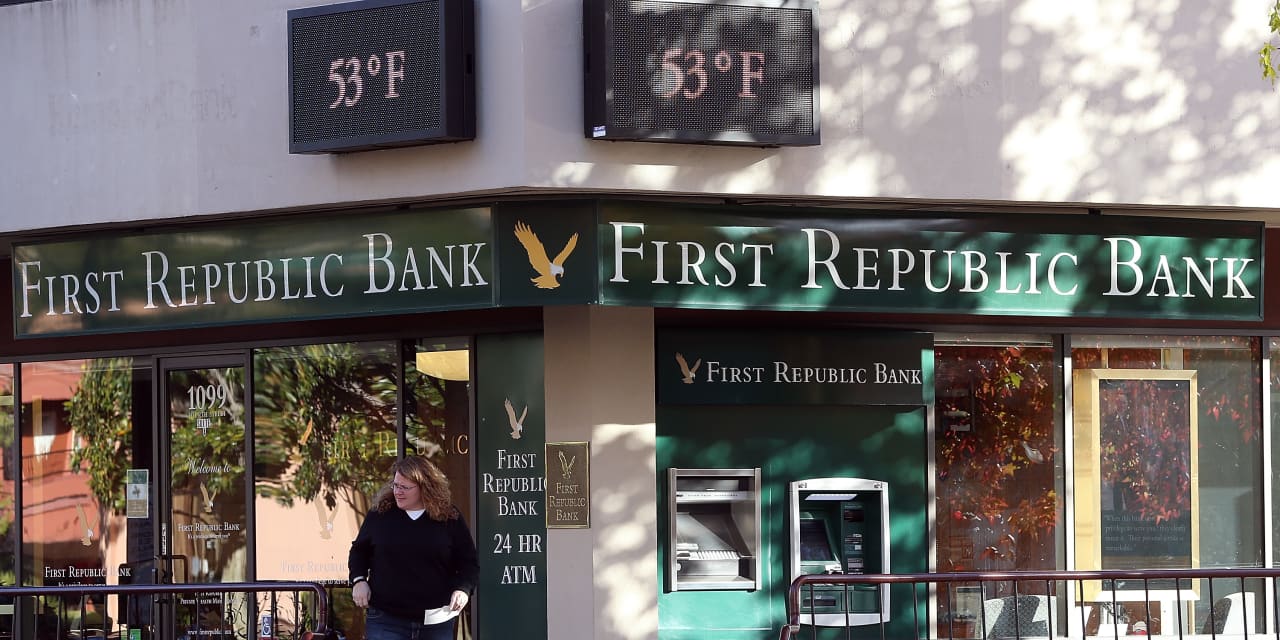 Trading in shares of First Republic Bank and Western Alliance Bancorp. was paused after steep initial losses on Monday as bank solvency fears persisted following the failures of Silicon Valley Bank and Silvergate last week.
First Republic Bank's FRC, -69.88% stock initially dropped 74% in morning trades after big losses late last week. The stock was paused for trading as of 10:21 Eastern time.
Western Alliance Bancorp's WAL, -57.99% stock fell 83% after it resumed trades.
Regions Financial Corp. RF, -6.88% dropped 9.4%, Comerica Inc. CMA, -22.43% moved down by 46% and PacWest Bancorp PACW, -28.18% dove by 57%.
Customers Bancorp Inc. CUBI, -43.24% dropped by 67% and was paused for trading, while Metropolitan Bank Holding Corp. MCB, -42.00% fell 68% and was also paused. KeyCorp. KEY, -26.11% shed 38%.
The selloff of the Arizona-based Western Alliance is surpassing its record one-day drop of 39.4% suffered on Sept. 19, 2008, in the midst of the financial crisis.
The KBW Nasdaq Bank Index BKX, -8.85% fell 13% Monday morning, while the Financial Select SPDR exchange-traded fund XLF, -2.28% dropped 4.1%.
On Friday, Western Alliance tried to reassure investors by saying "deposits remain strong" and "liquidity remains robust," with $61.5 billion in deposits as of March 9 and $2.5 billion in cash held on its balance sheet.
The stock reaction came after First Republic Bank said Sunday it had received additional liquidity from the Federal Reserve and JPMorgan Chase & Co. JPM, -0.92%.
The San Francisco-based bank said the new funding gives it more than $70 billion in unused liquidity.
The drops came amid rapid moves over the weekend by banking regulators seeking to secure deposits following the failures of Silicon Valley Bank, a unit of SVB Financial Group SIVB, , as well as Silvergate Capital Corp. SI, +15.08% and Signature Bank SBNY, -22.87%.
Also read: Crypto-friendly Signature Bank shut down by regulators after collapses of SVB, Silvergate
Raymond James analyst David J. Long on Monday cut his rating on First Republic Bank's stock by two notches to market perform from strong buy on worries about a drain in deposits affecting earnings per share.
"Despite the added liquidity sources, we believe deposit balances will remain under pressure in the immediate near-term," Long said. "While we believe the bank received some deposit inflows on Thursday during the bank run at SVB Financial (SIVB), additional panic among large depositors may have driven deposit balances lower since Thursday."
Long withdrew his $150 price target for First Republic and said the stock faces "some immediate near-term price risk until the panic surrounding bank deposits settles."
He said the bank may draw a premium valuation in the future given its "impeccable customer service and pristine credit metrics."
Meanwhile, the Federal Deposit Insurance Corp. said Monday it has transferred all deposits, both insured and uninsured, of the former Silicon Valley Bank to a newly created full-service FDIC-operated bridge bank in an action that seeks to protect all depositors of the bank.
Last week, MarketWatch columnist Philip Van Doorn included First Republic on a list of 10 banks showing contracting margins or the smallest expansions of margins over the past year.
UBS analyst Erika Najarian on Friday said First Republic Bank does not have the same exposures as ailing technology-sector lender SVB Financial Group.
"We believe [First Republic Bank] is no [SVB]," Najarian said, adding that a recent meeting of UBS and First Republic CEO Mike Roffler suggests that venture-capital and private-equity deposits were just 8% of the bank's total.
In comparison, deposits from funds and early-stage companies made up 52% of Silicon Valley Bank's balance sheet, Najarian said.
First Republic's available-for-sale securities (AFS) portfolio is 1.7% of earning assets, versus 14% for SVB before liquidation.
"[First Republic Bank] has historically thrived in periods of disruption, given its well-earned reputation as a 'quality' bank," Najarian said. "While the bank has grown much since, one of [First Republic's] most banner origination years was during the depths of the Global Financial Crisis."
First Republic's stock fell 14.8% on Friday.
The troubles at the banks have weighed on regional bank stocks, with the KBW Nasdaq Bank Index down 3.9% on Friday. The index had lost about 16% of its value in the past five days of trading, prior to Monday's action.
Also read: SVB's rescue means the Fed won't hike rates in March, says Goldman Sachs
Tomi Kilgore contributed to this report.
This article was originally published by Marketwatch.com. Read the original article here.