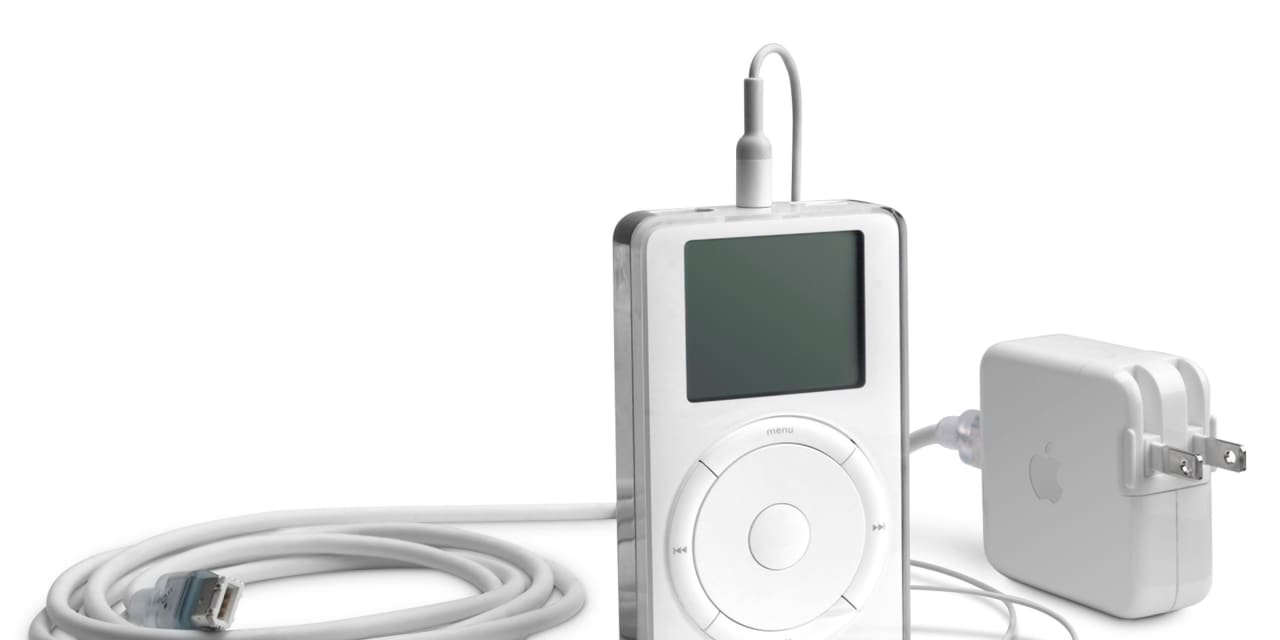 A first-generation iPod that had been placed on a teenager's closet shelf in Plano, Texas, soon after he received it as a Christmas gift in 2001 was sold for $29,000 on the Rally collectibles investing platform on Thursday.
The iPod, still in its original sealed packaging, was originally sold via a limited liability corporation, or LLC, created by Rally in December 2021 — two decades after it had been gifted. The LLC, which owned the iPod as its singular asset, was listed on Rally's platform with 5,000 shares sold to 360 inventors at $5 a share, says Rob Petrozzo, co-founder of the New York–based platform.
In late July, a private collector stepped in to buy all the shares for $29,000, a move akin to a hostile takeover, Petrozzo says.
The then-teenager who had owned the iPod, which his parents bought for $399 plus tax at a recently opened Apple Store at a Dallas-area mall, told Rally he was shocked when he got it. "He wasn't sure what he wanted to do with it," Petrozzo says. "So he put it on a shelf and then, inevitably, time passes."
The owner's father had died and his son rediscovered the iPod when he went to clean out the house where he'd grown up. The now-obsolete music player was in its original Apple Store blue bag and in the original Apple sleeve that it came in. "It really is a time capsule," Petrozzo says.
Apple AAPL, -0.18% gear appears to be having a moment. On July 17, an original factory-sealed, 2007 4G iPhone sold for a record $190,373 at LCG Auctions in Louisiana. Currently at RR Auction in Boston, a plethora of Apple computer gear and related items are on the block through Aug. 24, including a fully operational Apple-1 Computer with a custom built-in keyboard, power supply and a handmade case.
The computer, created in 1976-77 and signed by Steve Jobs's Apple co-founder Steve Wozniak, is estimated to fetch more than $200,000. The current online bid is $147,781.
The computer was originally bought by the consignor at the Computer Hobbyist Show in Framingham, Mass., in 1980. It's considered significant because of its pivotal role in the history of the now–$3 trillion stock-market juggernaut.
"Owning an Apple-1 is like holding the blueprint of a $3 trillion legacy in your hands," Bobby Livingston, executive vice president at RR Auction, said in a news release.
The original price the consignor paid wasn't disclosed, but the first Apple-1 computer was priced at $666.66, according to a description of an August 2022 RR Auction sale of a prototype.
The current RR Auction sale also includes a $116.97 check signed by Steve Jobs and Wozniak on March 19, 1976 (13 days before Apple Computer was formed), to Ramlor, a printed-circuit-board maker in Palo Alto, Calif. The auction house said the check likely had to do with the production of the first Apple-1 computers. The top online bid for the check currently is $61,080, above the $50,000 pre-auction estimate.
Also up for auction is a handwritten draft for an Apple-1 ad created by Jobs (with a $30,000-plus estimate) and a 1982 document he signed for the development of the Macintosh word processor (with a $60,000-plus estimate).
Collectors who flock to Apple gear and memorabilia related to Steve Jobs tend to be successful Baby Boomers with disposable income, Livingston said in an email.
"These collectors often have strong ties to Apple products, as they grew up using them and share a deep emotional connection with the company's early history," he said. "Many of these collectors are computer and internet entrepreneurs who witnessed the birth of the personal computing revolution and appreciate the significance of these historical artifacts"
The prices they fetch reflect their rarity and scarcity and their origin story, as is the case with all collectibles, Petrozzo says, but there's also the larger-than-life character of Steve Jobs, who died at 56 in 2011.
"He's somebody who people look at and immortalize as a pioneer, a genius, as somebody who really changed the way we think about hardware and software," Petrozzo says.
From the archives (October 2011): Steve Jobs: MarketWatch's CEO of the Decade
Also see: Apple's Steve Jobs: A decade in pictures
Also, people who collect think beyond today to what objects will be relevant and socially important in the future, he says.
"It's hard for anyone to look at Apple and the footprint that they have right now and say this isn't going to be something that 10, 20, 100 years from now is still as relevant, if not more relevant, than today," he says.
At Rally, the first-generation iPod was trading for a total value of about $20,000 — down from its original listed value of about $25,000 — when a collector stepped in on July 25 and said he would buy all the shares for $25,000. Four days later, another collector stepped forward and offered US$29,000, Petrozzo says.
The trigger for both offers was likely the factory-sealed iPhone sale at LCG Auctions, among other recent records for sealed iPhones, Petrozzo says. Before then the first-generation iPod, which had traded as high as $60,000, was trading closer to $16,000.
"You'll get an iPod sale very rarely, but once these iPhone records started getting set over the course of the last three months, for sealed iPhones, that's when we got a lot more activity and a lot more volume inside these assets, which drove [the value] back up to a little over $20,000," Petrozzo says.
Once the $29,000 offer came in, the 360 investors who owned shares in the iPod, had 48 hours to vote on whether they wanted to sell their stake. More than 51% had to yes before approval of the sale could go before an advisory board for ratification. The investors were notified of the board's approval, and that their shares would be bought out, at 10:30 a.m. on Thursday.
According to Rally, the final price represents a 16% return to investors since the iPod was first listed, and a 26.1% return since the last trade.
This article was originally published by Marketwatch.com. Read the original article here.