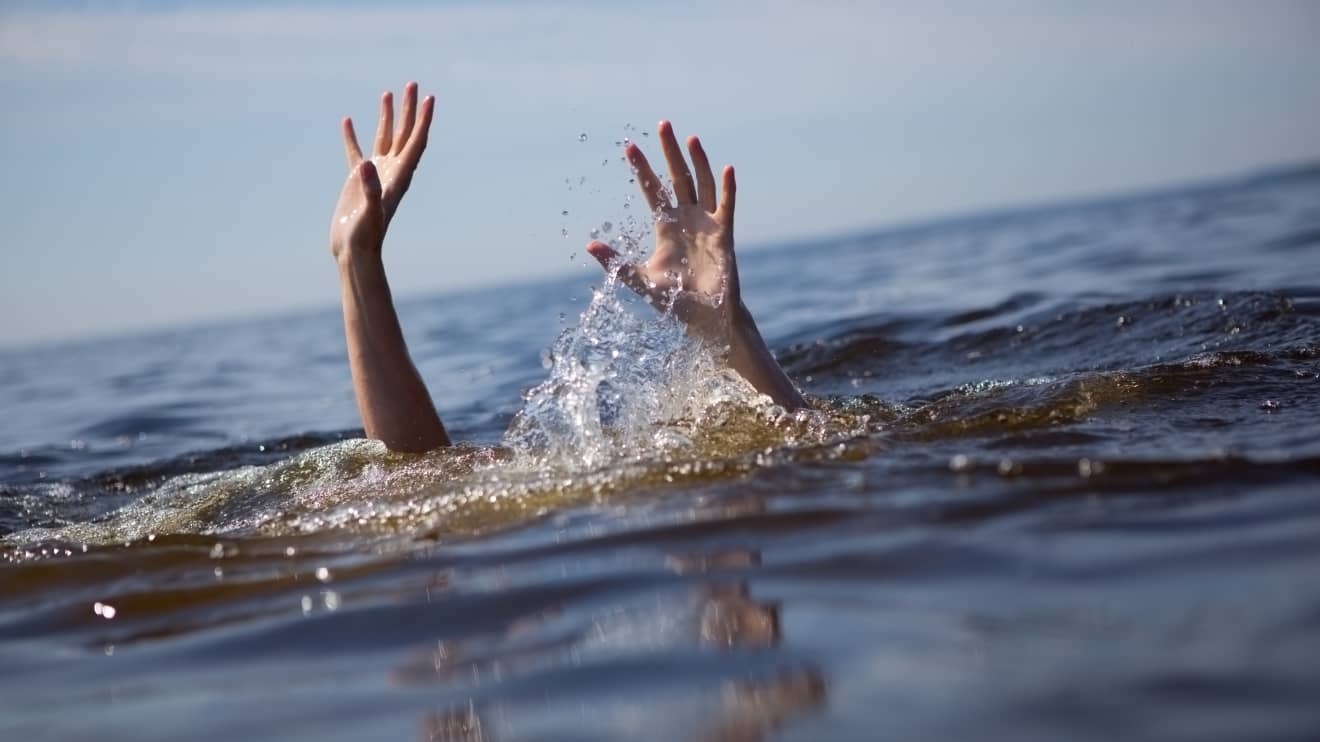 Just because you know how to swim doesn't mean you're safe from drowning.
That's the word from water-safety experts, especially in light of the news that Tafari Campbell, a private chef who worked for former President Barack Obama and his family, drowned earlier this week in Martha's Vineyard. Obama and his wife Michelle have a residence on the Massachusetts island, although the couple was not at home at the time of the accident.
Campbell, 45, was reported to have been paddleboarding without a life preserver. A fellow paddleboarder noted that he had struggled in the water and then went under.
The Daily Mail reported that Campbell was a "competent swimmer," but the publication also noted that the body of water where Campbell went to paddleboard can pose challenges, and is known for being choppy. Other reports said Campbell had only learned how to swim within the last few years or so, but was making progress. The Washington Post also said that some of Campbell's no-longer-visible Instagram posts made note of his passion for swimming.
Regardless of what caused Campbell to drown, experts say the situation is not as uncommon as it may sound, and that anyone who enters the water must understand the risks involved and take the proper safety precautions. After all, even competitive swimmers have been known to falter in the water — or, yes, drown.
"We need to detach knowing how to swim from being water smart," says Dr. William D. Ramos, a member of the American Red Cross's Scientific Advisory Council and an associate professor at Indiana University's School of Public Health.
More than 4,000 Americans drown unintentionally each year, according to the Centers for Disease Control and Prevention. And while attention is often paid to infant and child drownings and the need to teach youngsters how to swim, an analysis of CDC data by the American Red Cross shows that about 80% of drowning victims are adults.
Some of those victims are likely to be non-swimmers, of course. A 2022 survey by LendingTree's ValuePenguin found that 17% of Americans said they don't know how to swim. But as Ramos and other experts told MarketWatch, many of those victims are also likely to be swimmers, even ones who can do lap after lap in the pool.
What can explain this? For starters, many swimmers overestimate their abilities, especially in open water, experts say. It's a point worth keeping in mind in relation to a 2014 American Red Cross survey, which found that while 80% of Americans said they know how to swim, just 56% of those swimmers said they could perform all five of the basic skills the Red Cross deems essential in the water.
Among those skills: floating or treading water for one minute, and swimming 25 yards to an exit.
"While 80% of Americans said they know how to swim, just 56% of those swimmers said they could perform the five basic water skills the American Red Cross deems essential, according to a 2014 survey."
Then, factor in all the things that experts note can go wrong in the water and put someone in a life-or-death situation. A swimmer can overexert themselves, get a cramp, or, in the most severe instances, suffer a heart attack or seizure — and in all instances, that can compromise their ability to stay afloat. Or a swimmer can find themselves caught in a rip tide or dealing with other hazardous conditions.
Sometimes, a swimmer can also be startled by a fish or caught in the weeds, says Annette Pallowick, a swim instructor in Indian Harbour Beach, Fla., and a former lifeguard. "You could go into a panic" in such situations, she says, and that could inevitably lead to struggle in the water.
Other drowning or near-drowning scenarios involve those who engage in any kind of non-swimming water activity, from kayaking to paddleboarding. In these situations, the individual could unexpectedly end up in the water for any number of reasons — say, a sudden wind causes a paddleboarder to lose balance — and may not be able to face the consequences.
Tom McRae, a swim instructor in Menlo Park, Calif., who has coached Olympians, points to one such consequence: The water is much colder than the person is prepared to handle. Like Pallowick, he brings up the "p" word about what might happen next that could lead to a tragic outcome. "You start to panic," he says.
So, how can people protect themselves when heading to the beach, lake or pool this summer — or any time of year? Experts say to begin with the basic safeguards, such as making sure to swim with another person — and ideally in an area watched over by a lifeguard. It's also important for swimmers to be aware of their surroundings, and to understand their limitations.
Mary O'Donoghue, senior director of aquatics at the YMCA of Greater New York, says boaters or those engaged in other non-swimming water activities should not do it alone, either. But they must also wear a life jacket, regardless of their swimming ability, she says.
Simply put, "it will bring you back to the surface" should you go under for any reason, O'Donoghue says.
Of course, if you don't know how to swim, the most critical step when it comes to water safety is learning how to do so. Some private swim instructors specialize in teaching adults. Organizations like the YMCA of Greater New York have programs for adults, too — the YMCA says it taught 2,100 adults across its locations in the New York metro area last year.
But the issue still remains that swimmers can also get into trouble on the water for all of the reasons stated above. O'Donoghue and others say another way to stay safe is to practice your swimming skills, especially if you haven't been in the water for a while.
And don't be afraid to take a refresher lesson or two, either, experts advise. "It's always a great idea" O'Donoghue says.
This article was originally published by Marketwatch.com. Read the original article here.