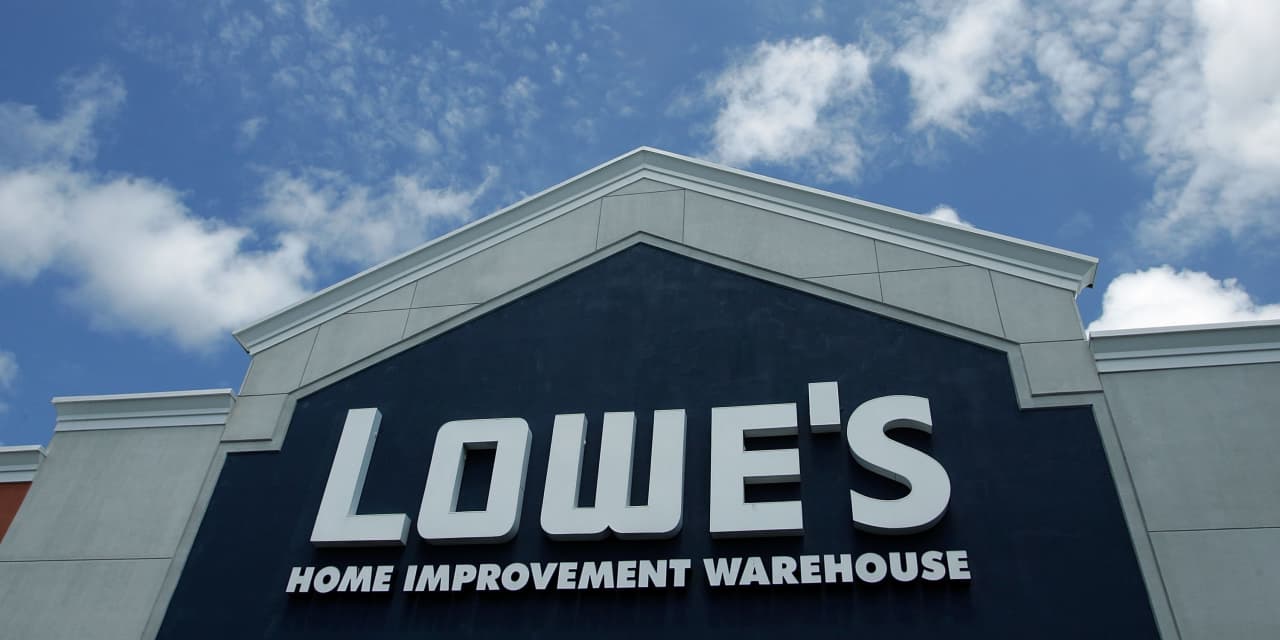 Shares of Lowe's Companies Inc. dropped Tuesday, after the home-improvement retailer beat fiscal first-quarter profit and sales expectations but cut its full-year outlook, citing lower demand for discretionary items.
Net income for the quarter to May 5 was $2.26 billion, or $3.77 a share, after income of $2.33 billion, or $3.51 a share, in the same period a year ago. Net income fell while earnings per share increased as the number of shares outstanding used to calculate EPS dropped 9.8% to 597 million.
Excluding nonrecurring items, such as an asset-sale gain, adjusted EPS of $3.67 beat the FactSet consensus of $3.44.
Total sales declined 5.5% to $22.35 billion, above the FactSet consensus of $21.60 billion, while the same-store sales decline of 4.3% missed expectations for a 3.4% decline.
Cost of sales fell less than sales, down 5.1% to $14.82 billion, as gross margin contracted to 33.7% from 34.0%. The value of merchandise inventory as of May 5 fell 3.5% from a year ago to $19.52 billion.
The stock LOW, -1.51% shed 1.0% ahead of the open, but pared earlier premarket losses of as much as 3.4%.
During the quarter, Lowe's said it spent $2.1 billion to repurchase 10.6 million shares and paid out $633 million in dividends.
"We are pleased with the performance of our business despite record lumber deflation and unfavorable spring weather," said Chief Executive Officer Marvin Ellison. "Although we delivered positive comparable sales in Pro and online for the first quarter, we are updating our full-year outlook to reflect softer-than-expected consumer demand for discretionary purchases."
For fiscal 2023, the company lowered its guidance ranges for adjusted EPS to $13.20 to $13.60 from $13.60 to $14.00 and sales to $87 billion to $89 billion from $88 billion to $90 billion. The outlook for same-store sales was revised to down 2% to down 4% from flat to down 2%.
Meanwhile, Wall Street's full-year estimates were within the lowered guidance ranges, as the FactSet consensus for EPS was $13.56. The estimate for sales was $88.36 billion and for same-store sales was a decline of 2.2%.
Lowe's results came less than a week after rival Home Depot Inc. HD, -0.08% reported a first-quarter profit beat — but sales missed expectations. Home Depot also lowered its full-year outlook.
The stock has gained 2.0% year to date through Monday, while Home Depot shares have dropped 8.0% and the S&P 500 index SPX, +0.02% has advanced 9.2%.
This article was originally published by Marketwatch.com. Read the original article here.