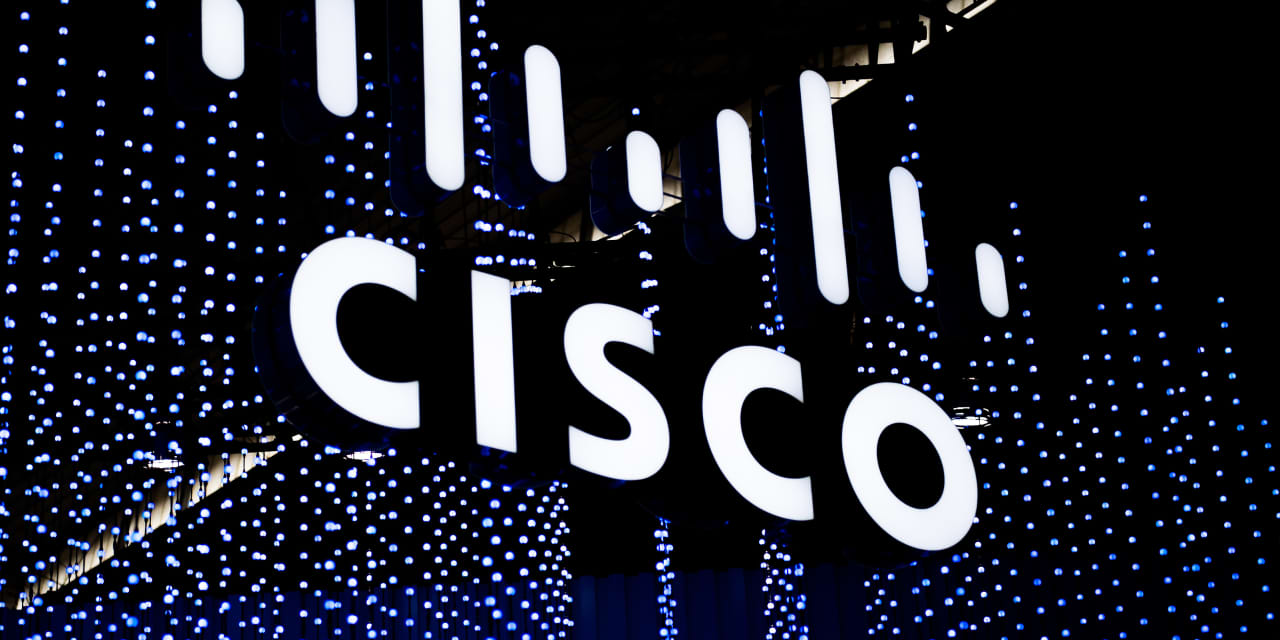 Cisco Systems Inc. blew away expectations for revenue growth in the holiday quarter, and executives predicted stronger growth in a revised annual forecast that sent shares more than 3% higher in after-hours trading Wednesday.
Cisco CSCO, +1.57% reported fiscal second-quarter net income of $2.8 billion, or 67 cents a share, on revenue of $13.59 billion, up from $12.72 billion a year ago. After adjusting for stock-based compensation and other costs, Cisco reported earnings of 88 cents a share, up from 84 cents a share in the same quarter a year ago.
Analysts surveyed by FactSet on average expected adjusted net income of 85 cents a share on revenue of $13.42 billion. Shares initially climbed more than 11% in after-hours trading following the results, before settling down and ending the session with a 3% gain. Shares closed up 1.6% in regular trading Wednesday at $48.45.
Read: Cisco made it through a pandemic pothole, and the stock is driving higher
For the fiscal third quarter, Cisco executives guided for adjusted earnings of 96 cents to 98 cents a share in adjusted profit and revenue of roughly $14.25 billion to $14.5 billion. Analysts were forecasting adjusted earnings of 89 cents and revenue of $13.58 billion, according to FactSet.
Executives also sharply increased their revenue guidance for the fiscal year, now saying that they expect revenue growth of 9% to 10.5%, after stating 4.5% to 6.5% growth just three months ago. They also increased adjusted-earnings guidance for the fiscal year to $3.73 to $3.78 a share from a previous range of $3.51 to $3.58 a share.
"With Cisco's strong Q2 performance, our fiscal 2023 is shaping up to be a great year," Chief Executive Chuck Robbins said in a statement Wednesday.
During a conference call with analysts late Wednesday, Robbins said Cisco is in the best shape since he took over as CEO eight years ago because of stable demand, the ability to ship backlogged products, and 44% of total revenue was subscription-based (50% in 18 months). "No one is talking about cutting technology spending," he said. "Customers are moving forward in their budgets."
Cisco Chief Financial Officer Scott Herren told MarketWatch that the company's "win rates" among customers are unchanged with slightly elongated sales cycles requiring an extra signature or two to go through.
Cisco's Product ($10.16 billion) and Service ($3.44 billion) businesses were up slightly year over year. The core networking division, which includes data-center networking switches, hauled in $6.75 billion, up from $5.9 billion a year ago. Analysts on average expected product revenue of $10.04 billion, services revenue of $3.4 billion and networking sales of $6.52 billion, according to FactSet.
Analysts were not expecting a big beat. In a note last week, UBS analyst David Vogt said he expected "in-line FQ2 results as improving supply chain enables faster backlog drawdown, offset by continued softness in EMEA."
Evercore ISI analyst Amit Daryanani shared similar sentiments in a separate note last week. He, too, expected quarterly results in line with Wall Street estimates as supply chains improve, but he cautioned about "softness" in Europe, the Middle East and Asia.
Shares of Cisco Systems are up 2% so far this year, while the broader S&P 500 index SPX, +0.28% has improved 8%.
This article was originally published by Marketwatch.com. Read the original article here.