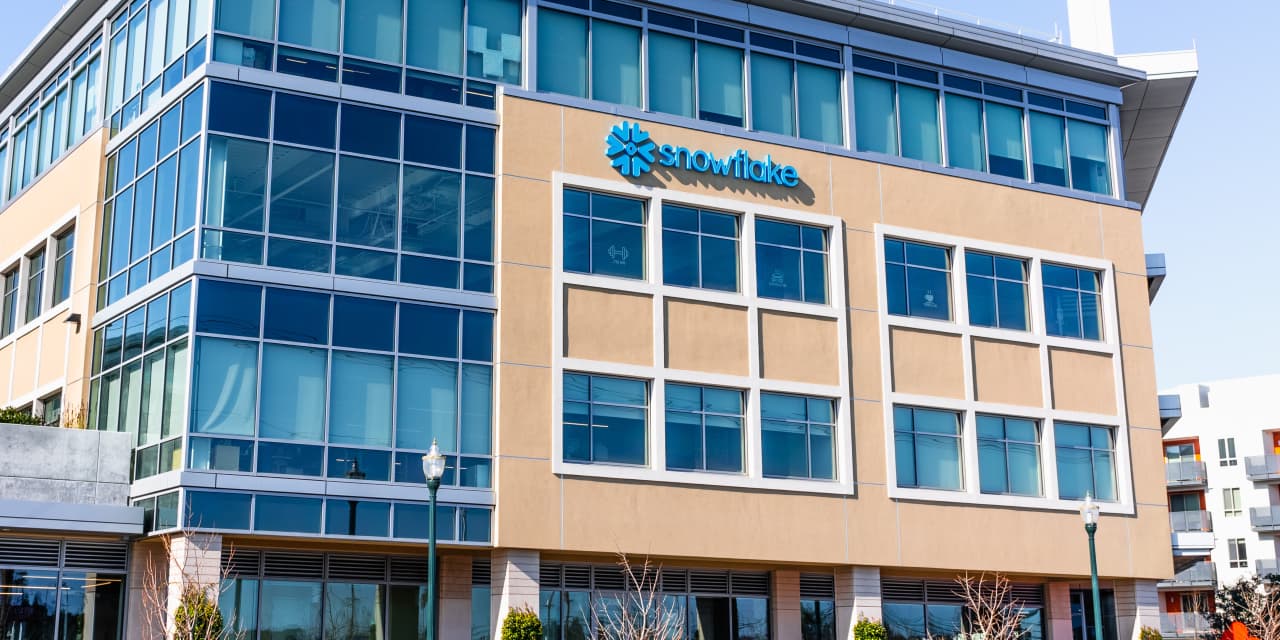 Snowflake Inc. is well positioned to beat expectations on product revenue for the latest quarter, according to some Wall Street analysts, but all eyes will be on the company's outlook.
After Snowflake's SNOW, +0.72% management gave an initial forecast for 47% growth in fiscal 2024 product revenue on the company's last earnings call in late November, analysts are curious about whether the data-software company will stick with that target or adjust it given macroeconomic conditions and spending trends in the software landscape.
Snowflake posts fiscal fourth-quarter results after Wednesday's closing bell. Here's what to look for when the numbers hit.
What to watch for
Earnings: Analysts expect Snowflake to post 4 cents a share in fiscal fourth-quarter adjusted earnings, down from 12 cents a share a year before. On Estimize, which crowdsources projections from hedge funds, academics, and others, the average estimate is for 7 cents a share.
Revenue: The FactSet consensus calls for $576 million in quarterly revenue, up from $384 million a year before. On Estimize, the average projection is for $582 million.
Stock movement: Snowflake shares have risen following seven of the company's nine earnings reports as a public company, including both of the last two. The shares have lost 41% over the past 12 months, as the S&P 500 SPX, -0.47% has lost about 8%.
Of the 45 analysts tracked by FactSet who cover Snowflake's stock, 29 have buy ratings, 13 have hold ratings, and three have sell ratings, with an average price target of $183.05.
What else to watch for
Some analysts are a bit cautious heading into the report, especially since Snowflake's management gave an initial fiscal 2024 forecast for 47% product-revenue growth on the prior earnings call.
There's "potential risk to the existing FY24 rev outlook," Wells Fargo's Michael Turrin wrote in a note to clients, citing "tempered [near-term] optimism from partner conversations, and a series of tougher readthroughs from other cloud vendors suggesting a [deceleration] exiting calendar 4Q."
While Evercore ISI's Kirk Materne saw some room for Snowflake to deliver upside on its quarterly product revenue for the most recent quarter, he added that "the bigger question is whether the company trims its initial FY24 outlook due to the macro."
"While SNOW partners note that they are seeing some similar issues that the hyper-scalers are facing…SNOW is more insulated from the 'consumption' issues to an extent and all of the partners we spoke with remain very upbeat about the long-term opportunity," he wrote.
Guggenheim's John DiFucci chimed in that Snowflake "should easily exceed consensus F4Q product revenue expectations by at least the 3-5% beat that we believe management attempts to achieve. He expects that the company will keep its 47% growth outlook for fiscal 2024 product revenue — for now.
"However, channel partner feedback supports that FY24 could be a difficult business environment given smaller deal sizes, longer sales cycles, and slower expansionary use case ramps for existing customers," he noted. "The magnitude of the beat is likely important to the stock reaction given that SNOW remains the most expensive in all of software," trading at 17.4 times enterprise value to next-12-months recurring revenue.
This article was originally published by Marketwatch.com. Read the original article here.