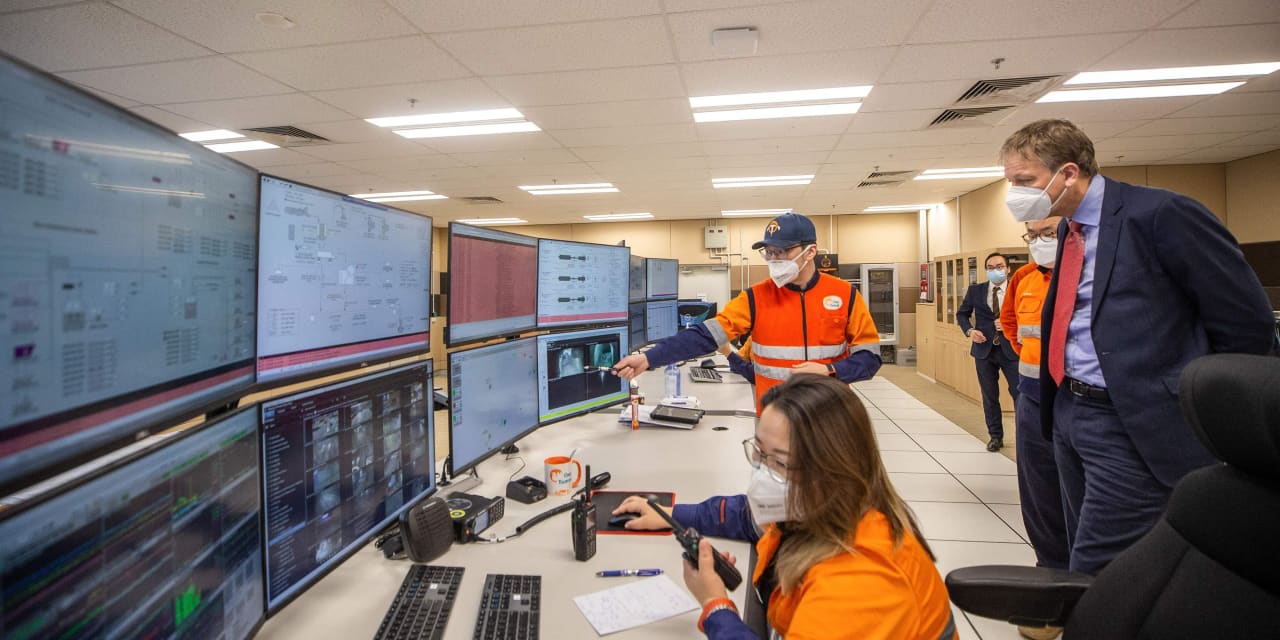 Rio Tinto PLC reported a 41% fall in net profit for 2022 and cut its payout to shareholders, reflecting a downswing in iron ore and copper prices.
The world's second-biggest miner RIO, -1.16% RIO, +1.26% by market value on Wednesday said it made a net profit of $12.42 billion last year, down from $21.09 billion in 2021.
Underlying earnings totaled $13.28 billion, compared to $21.38 billion the year earlier, as prices for iron ore–which accounts for most of Rio Tinto's profits–and copper fell. Analysts had expected underlying earnings of roughly $13.39 billion, according to 15 estimates compiled by Visible Alpha.
Directors of Rio Tinto declared a final dividend of $2.25 a share, taking the total payout for the year to $4.92 a share.
"Despite challenging market conditions, we remain resilient," said Jakob Stausholm, Rio Tinto's chief executive.
BHP Group Ltd., the world's largest miner, on Tuesday reported a 32% fall in its own first-half net profit, and pared its interim dividend from a record-high level, mostly because of weaker iron ore and copper prices.
Rio Tinto makes most of its money from the vast iron-ore mining operations it operates in remote northwest Australia. While shipments from those operations were flat in 2022 versus the year prior, the average price Rio Tinto was paid for its ore was 26% lower year-on-year.
Prices for the steel ingredient tumbled to a three-year low late last year amid concerns about the state of China's property market and the outlook for the global economy.
Rio Tinto said the price it got for its copper, an industrial metal used in construction and manufacturing, was also 5.0% below 2021 levels.
The mining giant, which also produces bauxite, aluminum and diamonds, has been grappling with cost inflation pressures throughout its businesses, too.
It said the cost of mining at its Australian iron-ore pits surpassed its expectations in 2022, in big part because of higher diesel prices and labor expenses. So-called unit cash costs for that business totaled $21.30 a metric ton, compared to the company's forecast of $19.50-$21.00 a ton.
Write Rhiannon Hoyle at rhiannon.hoyle@wsj.com
This article was originally published by Marketwatch.com. Read the original article here.