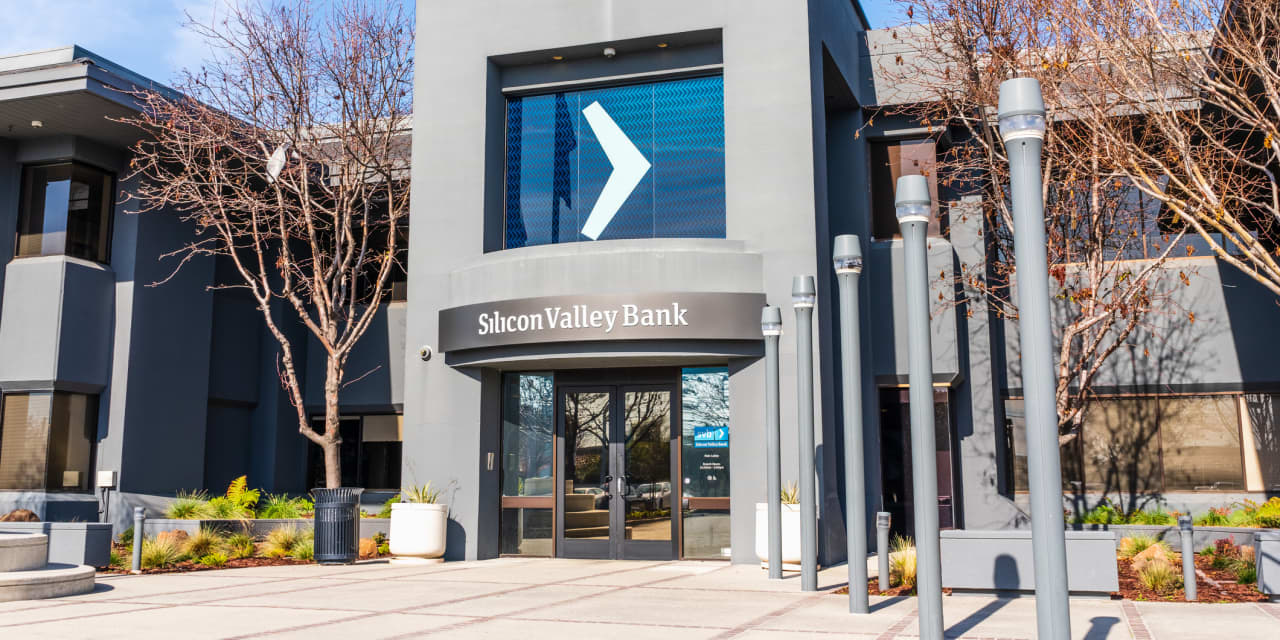 U.S. stocks ended lower Friday as worries about banking-sector stability reemerged following a bankruptcy filing by SVB Financial Group and the release of data showing banks borrowed $165 billion from the Federal Reserve over the past week.
How stocks traded
The Dow Jones Industrial Average DJIA, -1.19% fell 384.57 points, or 1.2%, to close at 31,861.98.
The S&P 500 SPX, -1.10% dropped 43.64 points, or 1.1%, to finish at 3,916.64.
The Nasdaq Composite COMP, -0.74% slid 86.76 points, or 0.7%, to end at 11,630.51, snapping a four-day win streak.
For the week, the Dow fell 0.1%, the S&P 500 gained 1.4% and the Nasdaq climbed 4.4%, according to Dow Jones Market Data. The Dow booked back-to-back weekly losses while the Nasdaq saw its biggest weekly percentage gain since January.
What drove markets
U.S. stocks fell Friday as worries about the banking sector persisted.
"The markets are up and down all this week, and they're moving typically in big amounts, because there really isn't any consensus on how the strains in the banking system will play" into the economy, said Paul Christopher, head of global investment strategy at Wells Fargo Investment Institute, in a phone interview Friday. Investors are trying to get a sense for how quickly the economy may be slowing and whether the problems in the banking sector will lead to an "accelerated slowing," he said.
Concerns about the banking sector's ability to withstand deposit flight reemerged Friday morning after SVB Financial Group SIVB, -60.41% announced it had filed for Chapter 11 bankruptcy protection. SVB is the holding company of Silicon Valley Bank , which was put into FDIC receivership last Friday.
On Thursday, First Republic Bank announced that it would receive $30 billion of uninsured deposits from a group of large U.S. banks. JPMorgan Chase & Co., Citigroup Inc., Bank of America Corp. and Wells Fargo & Co. were among the 11 banks that agreed to provide the deposits.
Meanwhile, Federal Reserve data released Thursday afternoon in New York showed banks borrowed a combined $165 billion from the central bank. Most of the borrowing occurred via the Fed's discount window. But a small amount was also tapped through the Fed's new Bank Term Funding Program that allows bonds trading at a discount to be used as collateral, at par value. The fact that borrowing through the discount window has soared to a record high was adding to the market's concerns about the banking sector, analysts said.
See: Banks have borrowed $165 billion from the Fed in past week after SVB failure
First Republic Bank FRC, -32.80% shares plunged 32.8% Friday, while Credit Suisse Group CS, -6.94%, which earlier this week got a lifeline from the Swiss National Bank, closed 6.9% lower, according to FactSet data.
At least four major banks have put restrictions on trades that involve troubled Swiss lender Credit Suisse Group or its securities, Reuters reported Friday, citing people with direct knowledge of the matter.
"I think there are still a lot of questions right now," said Mark Luschini, chief investment strategist at Janney, during a phone interview with MarketWatch. "Investors can't seem to hold their enthusiasm for equities for longer than a 24-hour news cycle."
It's not hard to understand why investors are still so anxious about the banking sector given the surge in borrowing from the Fed, said Matt Maley, chief market strategist at Miller Tabak + Co.
"Given that banks borrowed over $150bn at the Fed's discount window on Wednesday, which compares to $4.4bn the week before, one can understand why investors are worried that the situation might be a bit more dire than the authorities are admitting to right now," Maley said in emailed commentary.
In economic news, the Conference Board said Friday that the U.S. leading economic index fell 0.3% in February, marking the 11th straight monthly decline. U.S. industrial production was flat in February, data released Friday by the Fed show.
Meanwhile, the University of Michigan's latest reading on consumer sentiment showed consumers were more downbeat in March than at ay time in the last four months.
While stocks fell Friday, they finished the week mostly higher. The Dow Jones Industrial Average slipped 0.1% for the week, while the S&P 500 booked a 1.4% weekly gain and the technology-heavy Nasdaq Composite saw a weekly rise of 4.4%, according to Dow Jones Market Data.
Companies in focus
FedEx Corp.'s stock FDX, +7.97% jumped 8% after beating analyst estimates in its fiscal third-quarter earnings. The shipping firm also lifted its profit forecast for the full fiscal year.
Shares of PacWest Bancorp PACW, -18.95% and Western Alliance Bancorp WAL, -15.14% tumbled as regional banks continued to face pressure, with PacWest falling almost 19% and Western Alliance dropping 15.1%.
Shares of Microsoft Corp. MSFT, +1.17% rose 1.2% as analysts saw the latest iteration of Chat GPT giving the tech giant an even greater edge. In other megacap tech names, Alphabet Inc.'s Class A GOOGL, +1.30% shares gained 1.3% while semiconductor giant Nvidia Corp. NVDA, +0.72% advanced 0.7%.
—Steve Goldstein contributed to this report.
This article was originally published by Marketwatch.com. Read the original article here.