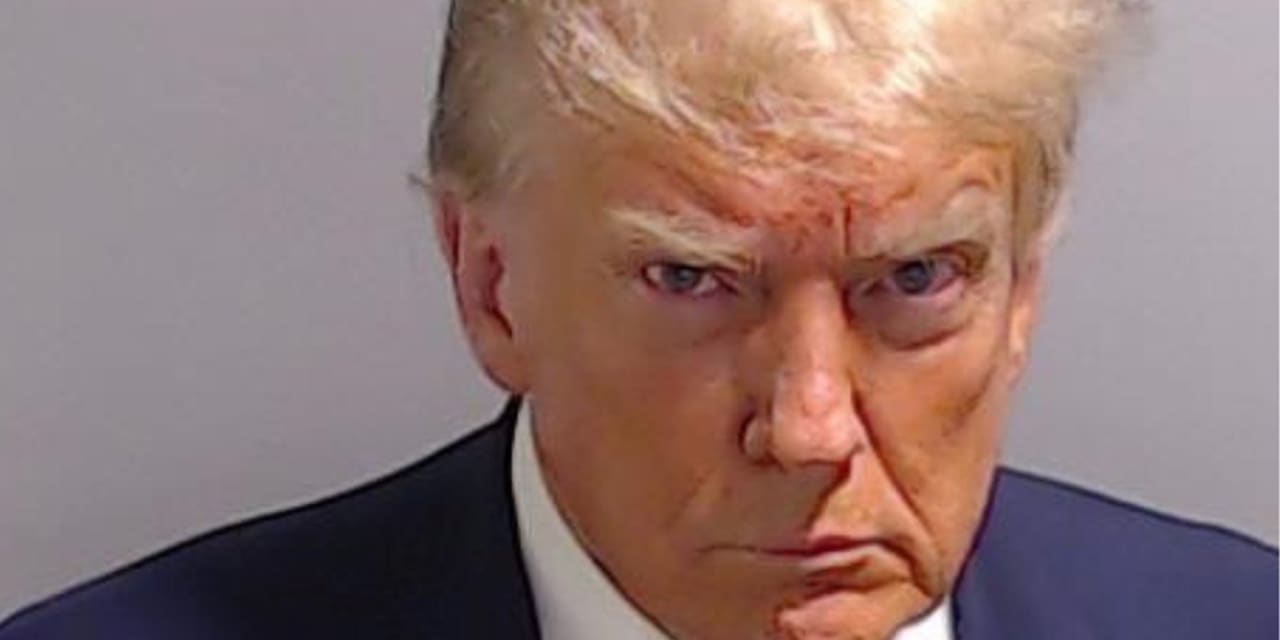 We finally have Donald Trump's mug shot.
Trump's photo was taken as part of his arraignment Thursday in Atlanta related to the Fulton County, Ga., district attorney's 41-count indictment against the former president and 18 of his associates over efforts to overturn the 2020 election results.
With Trump's three previous indictments this past year, officials decided to skip the picture-taking. But Fulton County Sheriff Pat Labat has told media outlets that his office would follow its standard operating procedure with Trump, which includes having a mug shot.
"Unless somebody tells me differently, we are following our normal practices, and so it doesn't matter your status, we'll have a mug shot ready for you," Labat said in a recent interview with Atlanta television station WSB-TV.
Some of the others charged in the Georgia indictment had already had their mug shots taken and released to the public as part of the booking process — most notably, Trump attorney and former New York City Mayor Rudy Giuliani and former White House Chief of Staff Mark Meadows.
When Trump was facing his first arraignment, which took place in New York, for his role in a hush-money payment to porn star Stormy Daniels, the possibility of a Trump mug shot had media watchers saying it could turn into a defining image of the 21st century.
Craig Agranoff, a Florida-based marketing executive, told MarketWatch earlier this year that the image would represent "the cultural icon of our time."
But a Trump mug shot off a fourth indictment doesn't carry quite the same weight, experts said in advance of the Atlanta arraignment
"It's lost a little of its punch," said Peter W. Cross, a former newspaper photo director turned freelance photographer
Not that Cross doesn't expect such a photo to be widely distributed and make its way to the front pages of newspapers across the globe. "It will still be the most famous mug shot in the world," he added.
Part of what gives the mug shot such significance, experts argue, is that it can have meaning for both sides of the Trump universe — meaning those who are pro-Trump and anti-Trump.
"It's going to be a reminder of a time when he was in power to those who support him. It will be a symbol of his downfall to those who oppose him," Agranoff told MarketWatch.
Trump himself may try to capitalize on a Georgia mug shot. He's already used his previous indictments as a way to rally his supporters for his 2024 presidential bid. In fact, his campaign sold T-shirts — at $36 a pop — with a faux mug shot after his first indictment.
Technically, a mug shot serves the practical purpose of putting a face to a name, so if someone who is booked for a crime skips a court date, there's a way to find and identify the person, explained Michelle Suskauer, a Florida-based criminal-defense attorney with Dimond, Kaplan & Rothstein and former president of the Florida Bar.
But in Trump's case, his image is so well-known, a mug shot hasn't really been necessary, Suskauer said: "He's one of the most recognizable persons, if not the most recognizable person, on the planet."
At the same time, Suskauer said, it's up to every jurisdiction as to how to handle the matter. She said the Fulton County sheriff is perhaps trying to make the point that even a former president must be treated like every other criminal defendant — in effect, no one is above have their mug shot taken.
This article was originally published by Marketwatch.com. Read the original article here.