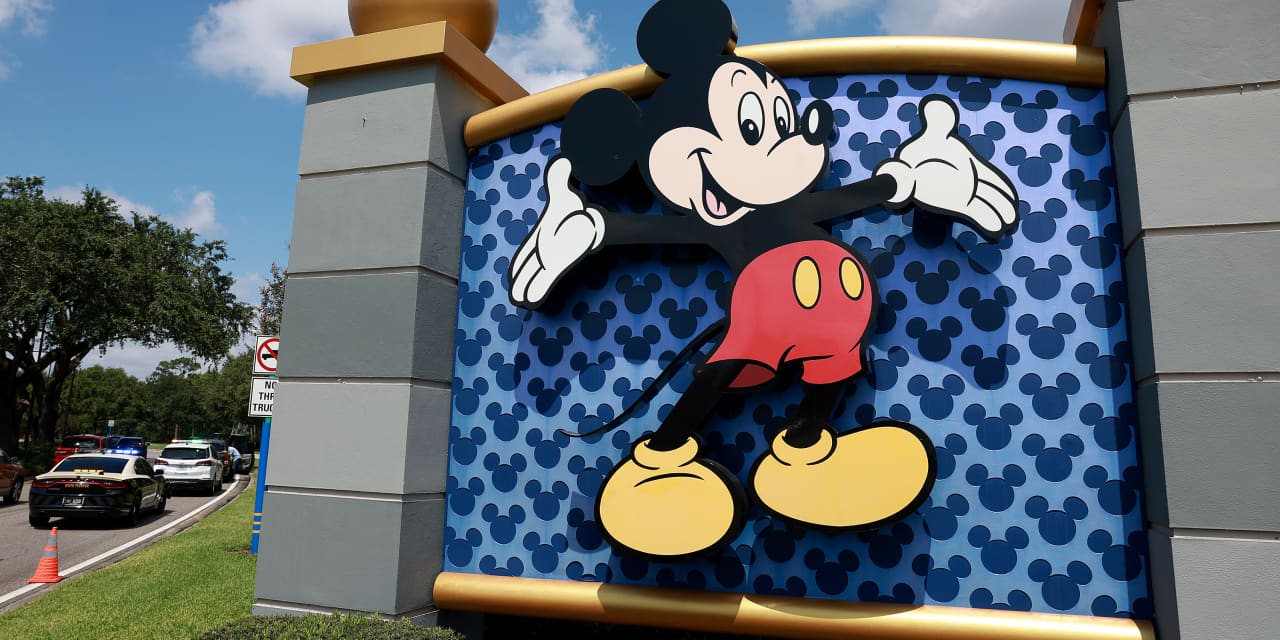 Walt Disney Co.'s stock rose in after-hours trading Wednesday after the company posted mixed quarterly results roughly in line with analysts' expectations amid a cost-cutting frenzy.
Separately, Disney said it is hiking prices on almost all of its streaming packages in an aggressive push to boost its bottom line. Commercial-free Disney+ will cost $13.99 per month, a 27% increase, beginning Oct. 12. Ad-free Hulu will increase 20% to $17.99 per month. A new Disney+ and Hulu Bundle ad-free plan launches Sept. 6 for $19.99.
Shares, which has initially fallen immediately after the report, rose after the price hikes were announced, and closed the extended session up 2.2% after dropping 0.7% to $87.52 in the regular session.
Read more: Disney is raising prices on Hulu and Disney+ again. Here's how much you'll soon pay.
The media giant DIS, -0.73% reported a fiscal third-quarter loss of $460 million, or 25 cents a share, mostly because of restructuring and impairment charges. After adjusting for restructuring costs and other effects, Disney reported earnings of $1.03 a share. Revenue grew 4% to $22.3 billion from $21.5 billion a year ago.
Analysts surveyed by FactSet had on average expected adjusted earnings of 96 cents a share on revenue of $22.5 billion.
"Our results this quarter are reflective of what we've accomplished through the unprecedented transformation we're undertaking at Disney to restructure the company, improve efficiencies and restore creativity to the center of our business," Disney Chief Executive Robert Iger said in a statement announcing the results. Disney is in the midst of a $5.5 billion cost-cutting plan overseen by Iger, who returned to the CEO position to right the ship in late 2022.
Direct-to-consumer (DTC) sales, which includes streaming services and some international products, hauled in $5.5 billion, compared with analysts' forecast of $5.7 billion on average and last year's total of $5.05 billion. The division did reduce its quarterly losses to $512 million, compared with $1.06 billion a year ago. Analysts were expecting a loss of $758 million.
Still, the company has lost more than $10 billion in its DTC segment since launching Disney+ in late 2019. Disney had told investors for three years it expects Disney+ to be profitable by September 2024. During a conference call with analysts late Thursday, Iger said Disney is "actively exploring" options to crack down on account sharing when the company updates subscriber agreements later this year and will "roll out tactics to drive monetization" in 2024.
Read more: Disney looking to crack down on password sharing, following Netflix's lead
The company's iconic theme parks around the world and product-sales business increased to $8.3 billion in revenue from $7.4 billion a year ago. The average analyst estimate was $8.1 billion.
Disney's largest business segment, media and entertainment distribution, raked in $14 billion during the quarter, down from $14.1 billion a year ago. Analysts on average predicted $14.3 billion, according to FactSet.
Disney's television networks generated sales of $6.7 billion, while analysts' average estimates called for $6.74 billion. Content sales and licensing, a category that includes Disney's film business, reported revenue of $2.1 billion, compared with analysts' expectations of about $2.15 billion.
In the weeks leading up to Disney's results, there has been a whirlwind of fear and doubt over the current state of the company's streaming services — including ESPN — as well as linear-TV ad sales, the actors' and writers' strikes that have shut down Hollywood, Disney's theme parks and its legal and political battle with Florida Gov. Ron DeSantis.
Iger created the most buzz in a CNBC interview last month in which he said he was open to selling TV assets.
Read more: The long-simmering rumor of Apple buying Disney is resurfacing as Bob Iger looks to sell assets
Front and center was the operational health of Disney+ as it battles streaming rivals like Apple Inc. AAPL, -0.90%, Netflix Inc. NFLX, -2.14%, Amazon.com Inc. AMZN, -1.49%, Warner Bros. Discovery Inc. WBD, -2.15% and Comcast Corp. CMCSA, -0.26% while Disney also tries to achieve profitability in the streaming business. Macquarie Equity Research analyst Tim Nollen believes in Disney's streaming services over the long term but said "we see too many near-term issues to overcome to support a more constructive view."
Disney+ had 146.1 million subscribers globally, 7% fewer than the 157.8 million it had in the previous quarter. The decline mostly came from India, where Disney lost the rights to stream a popular cricket league last year.
Disney and DeSantis, who is running for the 2024 Republican presidential nomination, have filed dueling lawsuits that stem from the company's criticism last year of a Florida law that bans classroom discussion of sexuality and gender identity with younger children. Earlier this week, a group of mostly former Republican high-level government officials called DeSantis's takeover of Disney World's governing district "severely damaging to the political, social, and economic fabric" of Florida.
The somber vibe prompted Deutsche Bank analysts on Tuesday to lower their price target on Disney shares 8% to $120, with "lower advertising revenue, underperformance at the box office, and lighter parks attendance in Orlando" chief among their concerns.
"This is Iger's most important earnings call since returning to Disney late last year. He came in with a punch list that was too long to realistically knock off in two years," Rick Munarriz, an analyst at the Motley Fool, said in an email. "Now the board has given him four years, and every word he uses during Thursday afternoon's earnings call has to carry some serious heft."
Shares of Disney have inched up 0.7% this year, while the S&P 500 SPX has climbed 16%.
This article was originally published by Marketwatch.com. Read the original article here.