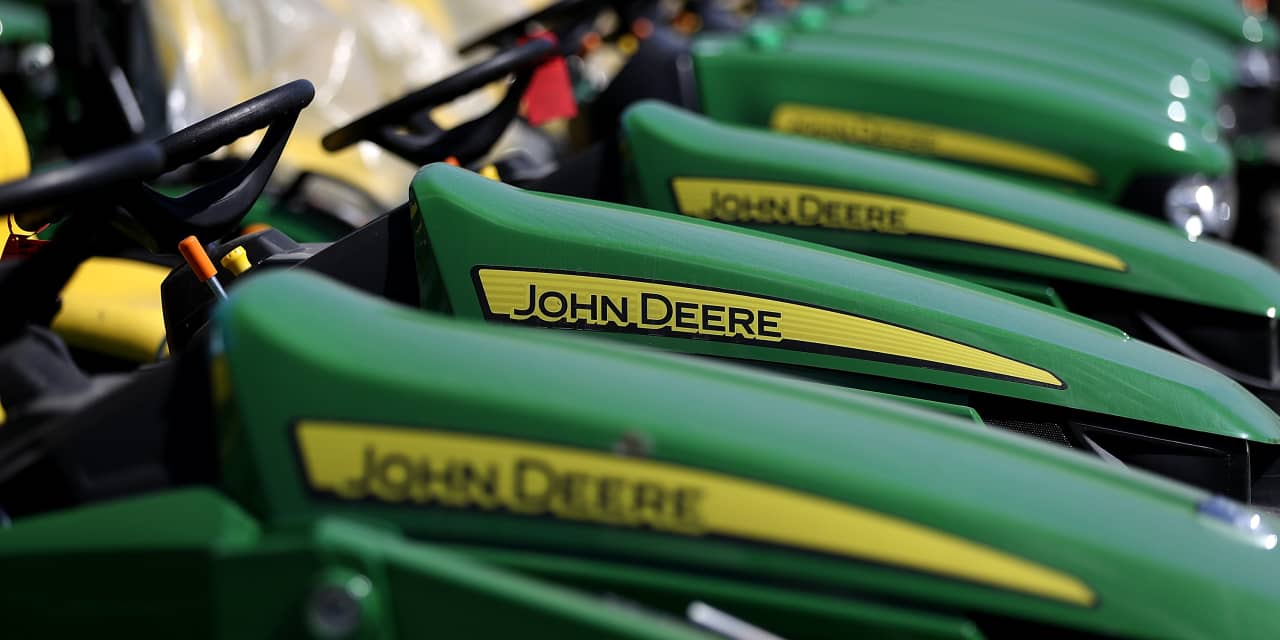 Shares of Deere & Co. powered higher Friday after the maker of agricultural, construction and forestry equipment reported fiscal second-quarter results that beat expectations by wide margins and raised its net income outlook, citing "healthy demand" for farm and construction equipment.
Net income for the quarter to April 30 rose to $2.86 billion, or $9.65 a share, from $2.10 billion, or $6.81 a share, in the same period a year ago. That was well above the FactSet consensus for earnings per share of $8.58.
Sales grew 30% to $17.39 billion, to beat the FactSet consensus of $14.89 billion, as production and precision agriculture sales jumped 53%, small agriculture and turf sales increased 16% and construction and forestry sales rose 23%.
The stock DE, -1.88% rallied 3.9% in premarket trading, enough to make it the S&P 500 index's SPX, -0.14% biggest gainer ahead of the open.
Among Deere's business segments:
Production & Precision Agriculture sales jumped 52.9% to $7.82 billion, above the FactSet consensus of $7.29 billion. Operating profit more than doubled, rising 105.3% to $2.17 billion, as operating margin improved by 7.0 percentage points to 27.7%.
Small Agriculture & Turf sales increased 16.1% to $4.15 billion to beat expectations of $3.74 billion. Operating profit rose 63.3% to $849 million, as operating margin improved 5.9 percentage points to 20.5%.
Construction & Forestry sales grew 22.9% to $4.11 billion, topping expectations of $3.88 billion. Operating profit edged up 2.9% while operating margin contracted by 3.9 percentage points to 20.4%.
"As shown by the company's outstanding second-quarter results, Deere continues to benefit from favorable market conditions and an improving operating environment," said Chief Executive Officer John May.
The company raised its full-year guidance range for net income to $9.25 billion to $9.50 billion from $8.75 billion to $9.25 billion.
For its business segments, the company affirmed its fiscal 2023 sales growth outlook for Production & Precision Agriculture of up about 20%, lifted its outlook for Small Agriculture & Turf to up about 5% from flat to up 5% and revised higher its guidance for Construction & Forestry to up about 15% from up 10% to 15%.
The stock has dropped 13.6% year to date through Thursday, while the Industrial Select Sector SPDR exchange-traded fund XLI, -0.24% has tacked on 1.8% and the S&P 500 has gained 9.3%.
This article was originally published by Marketwatch.com. Read the original article here.