Student loans are a trillion-dollar problem facing some 44 million federal student loan borrowers in the U.S., but this money accounts for only a small portion of the total cost of college. A much bigger portion comes directly out of the pockets of parents, according to the latest "How America Pays for College" study by student-loan lender Sallie Mae, and that burden hasn't shifted in decades.
"Parent income and savings always lead the pack. The numbers fluctuate here or there, but when it comes to paying for college, families consistently dip into their own pockets," says Rick Castellano, vice president of corporate communications at Sallie Mae.
This year's report shows that parents pay the majority of college costs for those attending four-year public colleges, averaging $11,657 per year from their income and savings. Student borrowing, on the other hand, was $2,519 per year, and parent borrowing was $2,441.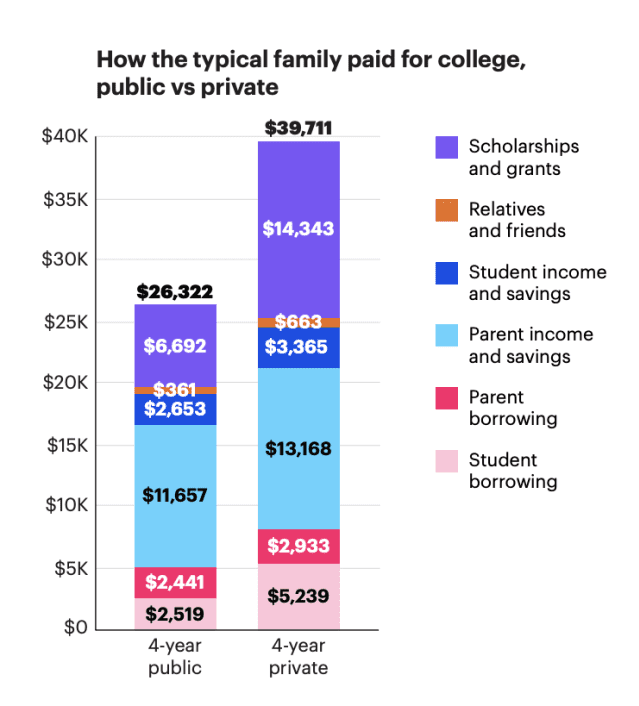 For those attending four-year private colleges, the parental contribution averaged $13,168, and borrowing jumped to $5,239 for students and $2,933 for parents. At these institutions, scholarships and grants counted for more current dollars. But that may be just a displacement of spending for parents, too, because that "earned" money no doubt came on the back of years of piano lessons, club sports, SAT tutors and the like.
"The planning doesn't necessarily start in junior or senior year of high school," says Castellano. "Some of that has to do with researching and finding scholarships and setting up appropriate extracurricular activities well in advance."
Borrowing is rarer than you think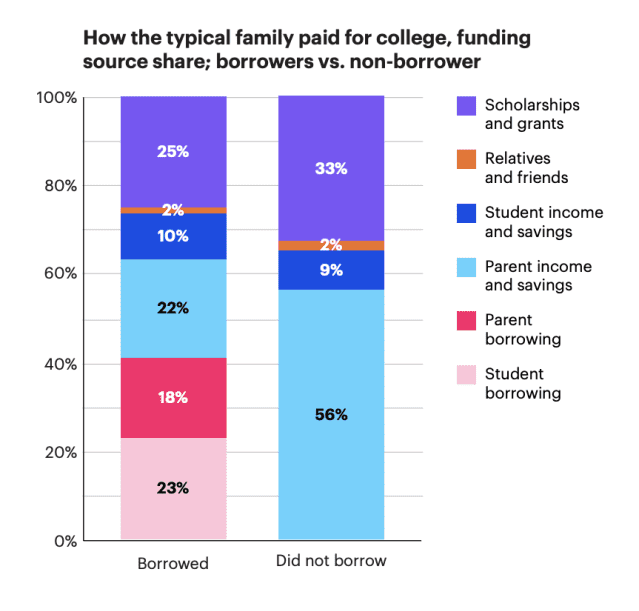 There are some demographic differences between borrowers and non-borrowers, but the differences aren't all that statistically significant, according to Jenny Berg, vice president at Ipsos, which administered the survey. The mean income of the families not borrowing is about $10,000 more than the families that borrow. But at the same time, non-borrowers were also more likely to attend two-year programs instead of four-year ones, so were spending much less.
Only four out of 10 families borrow for college, and not every family borrows for every year of tuition, according to Sallie Mae. The study found that for the 2022-2023 academic year, 28% of families used student borrowing and 18% used parent borrowing, and only 5% used both at the same time. For those that weren't borrowing, the money that made up the difference came out of parent spending.
What parents can do
Student loan repayments are getting most of the attention today, because the pause of federal loans lifts on Oct. 1. That isn't likely to alleviate the parental tuition burden, but there are some self-help steps that families can take to alleviate the financial strain of paying for college.
The first, notes Castellano, is to fill out the Free Application for Federal Student Aid, even if you don't think you qualify. The Sallie Mae survey found that only seven out of 10 families complete the form. "It's the gateway to federal grants and aid," he says.
Ironically, while the Education Department is attempting to simplify the form, the rollout is causing more confusion than usual, because 72% of those surveyed don't even know when the form is going to be available – including Castellano – because there's no final date. The FAFSA moved to an Oct. 1 release in 2016, but this year it will be available sometime in December. The earlier you fill out the form the better, because some state aid is given out on a first-come-first-serve basis.
Another parameter in parents' control is where kids apply to college. Castellano suggests having an honest conversation about this as early as possible – even years ahead of any applications being due. And one thing to be clear about is who is paying for those student loans – some 44% of families never discuss this, according to Sallie mae. "You have to come into the process with eyes wide open. If you haven't had that conversation and made a budget, no time like the present," says Castellano.
Perhaps most important, try to win some money outside of the college application process. Scholarships don't have to just come from the college a student is going to attend. There are millions of dollars available for every possible interest group. "The last thing any family wants to do is leave free money on the table," says Castellano.
More from Beth Pinsker
This article was originally published by Marketwatch.com. Read the original article here.