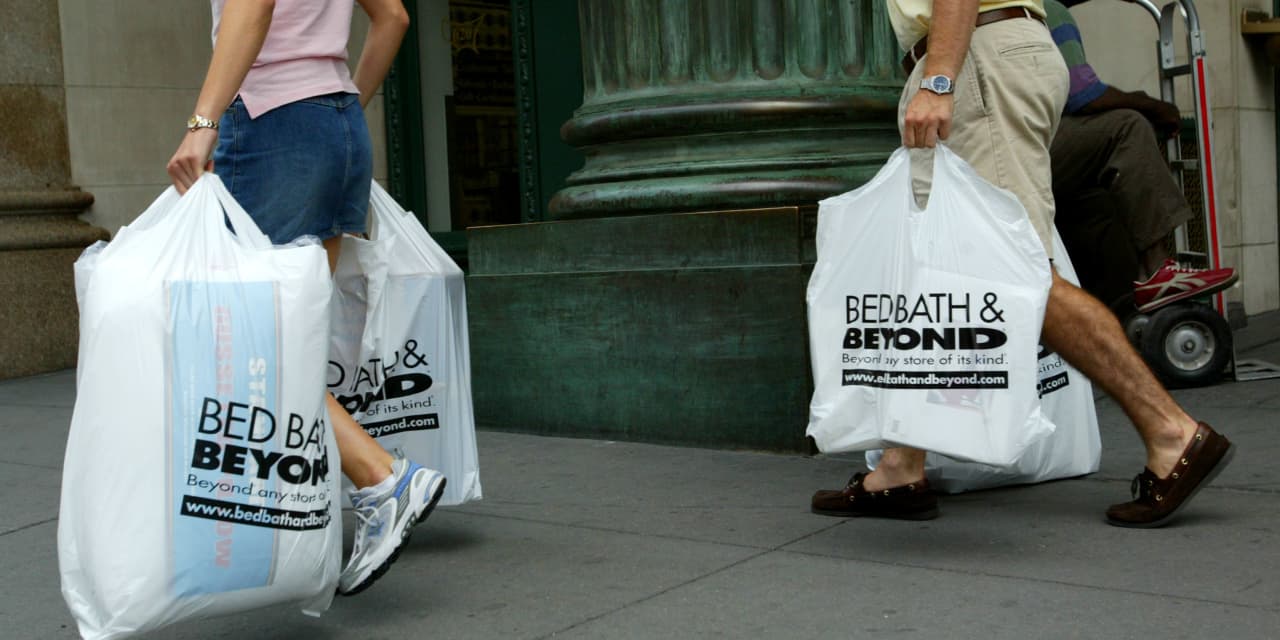 Shares of Bed Bath & Beyond Inc. skyrocketed as much as 80% in the extended session Tuesday after the retailer announced a partnership to have some of its "most sought-after" baby and home items available at Kroger Co.'s stores and site and said it was ahead of its share buyback schedule.
The partnership will include popular items such as bedding and storage, and baby furniture and gear, which will be available at some Kroger grocery stores and Kroger's website starting next year, the companies said.
Don't miss: Skechers is still heading toward $10 billion in revenue despite supply chain problems
"This strategic online collaboration and in-store pilot will provide Kroger shoppers easy access to essential home and baby products alongside their favorite grocery staples," Kroger's KR, +0.62% Chief Executive Rodney McMullen said in a statement.
See also: Ulta to offer same-day delivery through partnership with DoorDash
Products from Bed Bath & Beyond BBBY, +9.62% as well as the retailer's Buy Buy Baby stores will launch on Kroger.com by early 2022, and a branded shop-in-shop experience piloted in select stores will follow, the companies said.
Bed Bath & Beyond stock is one of the most heavily shorted, and is popular among "meme" retail investors who post on Reddit. Tuesday's deal may have spurred a short squeeze, forcing hedge funds that had bet against the stock to buy back their shares to cut losses.
Separately, Bed Bath & Beyond said it expects to be done with its $1 billion, three-year share buyback plan by the end of fiscal 2021, which would be two years ahead of schedule.
The company has bought back $600 million worth of shares since the end of fiscal 2020, and plans to repurchase the remaining $400 million over the third and fourth quarters of fiscal 2021, it said.
That "underscores our ongoing confidence in our turnaround," Bed Bath & Beyond Chief Executive Mark Tritton said in a statement.
Kroger stock rose 0.7% in the extended session. Shares of Bed Bath & Beyond ended the regular trading day up 9.6%, while shares of Kroger ended 0.6% higher.
This article was originally published by Marketwatch.com. Read the original article here.