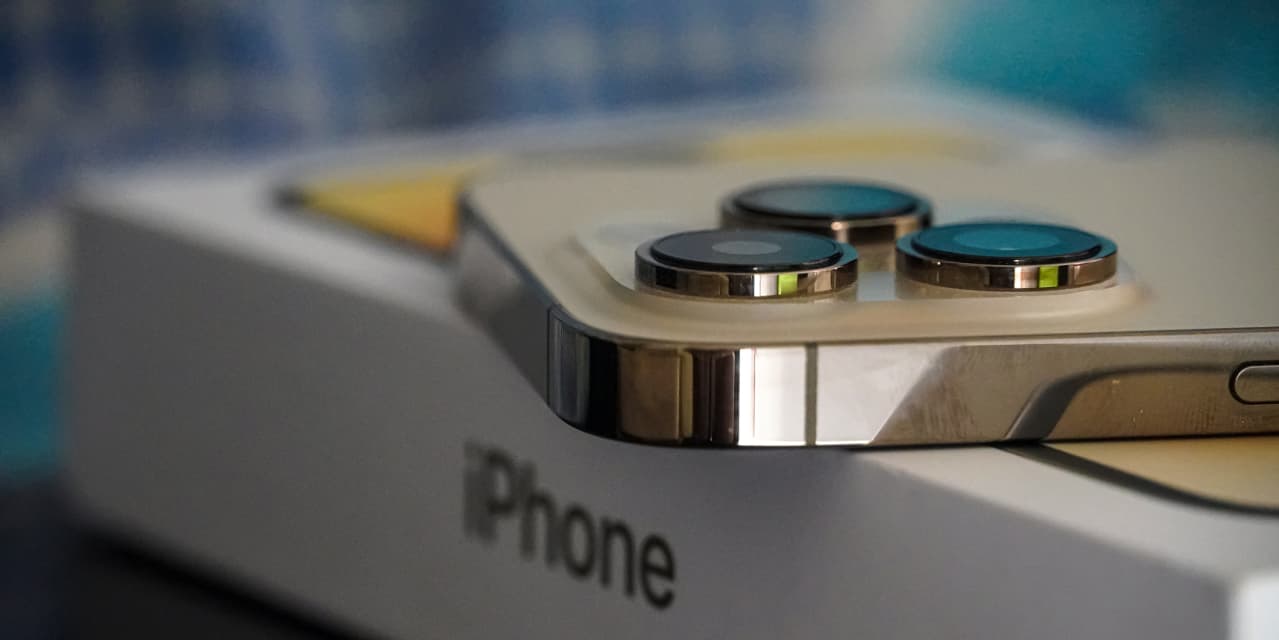 Apple Inc. saw revenue fall slightly in the latest quarter, and its management expects similar performance in the current period.
The tech giant on Thursday posted sales of $81.80 billion for the fiscal third quarter, matching the FactSet consensus but marking a decline from the $82.96 billion seen a year before. Apple logged $39.67 billion in revenue for its iPhone business, down from $40.67 billion a year before and below the FactSet consensus, which was for $40.24 billion.
Read: Apple dubbed the most 'boring' buy-rated stock — and that's actually a good thing
Chief Financial Officer Luca Maestri expects Apple's AAPL, -0.73% overall September-quarter revenue performance to be similar to what was seen in the June quarter. He anticipates that year-over-year iPhone and services revenue will accelerate from the June quarter, while the Mac and iPad businesses could post double-digit declines relative to a year earlier due to tough comparisons to that period.
Shares of Apple fell 2% in after-hours action. The latest quarter marked the third in a row of revenue declines.
Apple recorded $5.79 billion in June-quarter iPad revenue, down from $7.22 billion a year before and below the FactSet consensus, which called for $6.44 billion. Mac revenue came in at $6.8 billion, down from $7.38 billion a year earlier but ahead of the consensus view: Analysts were modeling $6.26 billion in Mac revenue.
The company saw $8.28 billion in revenue within its wearables, home and accessories business. That compared with a year-before total of $8.08 billion. The FactSet consensus was for $8.31 billion.
Services revenue increased to $21.21 billion from $19.60 billion, while analysts were projecting $20.73 billion.
See more: Apple savings account racks up $10 billion in deposits since April debut
Despite "a challenging smartphone market in the U.S. currently," Chief Executive Tim Cook said on the earnings call that Apple was seeing "some really good signs in most places in the world."
He called out strength in emerging markets, where Apple did "exceptionally well" in the latest quarter. In China, the company swung to 8% revenue growth after logging a 3% decline in revenue during the March quarter.
Apple also disclosed a June-quarter revenue record in India, where it recently opened its first retail stores.
While Cook is "pleased" with Apple's India growth, he also noted that the company's current market share in the country is "very, very modest."
"So I think that it's a huge opportunity for us, and we're putting all of our energies in making that occur," he said.
The tech giant booked fiscal third-quarter net income of $19.88 billion, or $1.26 a share, compared with $19.44 billion, or $1.20 a share, in the year-prior period. Apple beat the FactSet consensus, which was for $1.20 in earnings per share.
Don't miss: Apple has a juicy $40 billion opportunity ahead of it
This article was originally published by Marketwatch.com. Read the original article here.