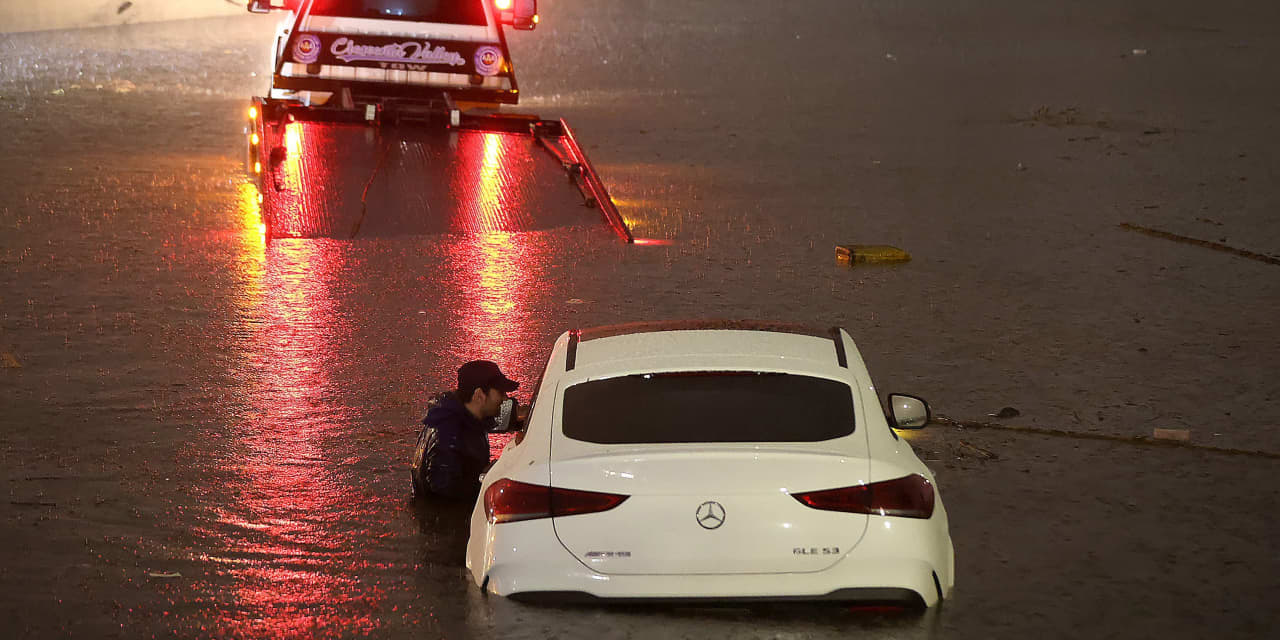 They arrive with a concerned smile — and could leave with your hard-earned cash.
People should be on the alert for an increase in scams after Tropical Storm Hilary blew across parts of Mexico late last week, and Southern California last Sunday, the Federal Trade Commission warned this week.
After a hurricane, tornado, wildfire or other natural disaster moves through an area, volunteers, government officials and aid workers are usually not far behind — and so are con artists, posing people who are also there to help.
The Consumer Financial Protection Bureau warns that scammers aim to take advantage of vulnerable people who need help — and they know that's easier to do when people have lost phone or internet service and, therefore, can't easily find out whether a person is legitimate or not.
The most common kind of fraud is "unlicensed appraisal" — people who knock on doors to provide assessment and repair services after a storm or hurricane, said Arkady Bukh, an attorney specializing in insurance fraud in New York City.
Bukh's team saw this kind of fraud in the aftermath of Hurricane Sandy in 2012 in New York, and after other recent storms in Florida. "People knocking on the door? Wait for the trouble," he said.
Scam artists could introduce themselves as property inspectors, building managers, roof repairmen and — although rare — lawyers who offer to help with applications for insurance companies or the Federal Emergency Management Agency, a government agency that aims to help people during and after natural disasters.
Other common frauds involve scammers pretending to be working for FEMA or the U.S. Small Business Administration. Fake charities also emerge following disasters. Scammers may create phony websites designed to solicit contributions that they claim will go to survivors and use organization names that resemble those of reputable charities.
This is a busy time for scam artists
The FTC, which enforces federal consumer-protection laws that guard against fraud and unfair business practices, urges people to be wary of such impostors in the weeks and months after extreme weather conditions or a natural disaster. "As people in affected areas try to rebuild and recover, scammers will say they're a government official offering help, or a contractor who can do the work you need quickly," the agency said in the statement.
Consumers reported losing nearly $8.8 billion to fraud in 2022, up 30% on last year, the FTC said. Investment scams made up approximately $3.8 billion of that figure, more than any other category — and more than double the amount lost in the prior year. Imposter scams led to $2.6 billion in reported losses in 2022, up from $2.4 billion in 2021.
Scam artists usually follow the eye of the storm. Hilary hit Southern California and parts of Mexico with severe rain and flash flooding on Sunday. The storm also brought heavy rainfalls to southwestern states, including Nevada and Idaho, earlier this week.
It was the first tropical storm to make landfall in Southern California in 84 years. While government officials from Los Angeles said it didn't cause any known fatalities or injuries, there were reports of fallen trees, downed power lines and flooded roads.
The storm was followed by a 5.1-magnitude earthquake in Ventura Country, about 80 miles northwest of Los Angeles.
How can I unmask a scammer?
If someone knocks on your door or reaches you by phone, the Consumer Financial Protection Bureau advises asking these three questions: "Can I see your identification and contractor's license? Can you provide three recent recommendations from the area? How long have you been in business?"
Unlicensed contractors and scammers often show up after a disaster and offer to do clean-up or repair work, the FTC said in its consumer alert. "If they want cash up front, walk away. And if they won't give you copies of their license, insurance, and a contract in writing, run."
Government agencies remind people to guard their personal information and their money. Federal and state workers never ask for or accept money, the CFPB says. They will also always carry identification badges. Be extra careful if someone with suspect credentials asks you to fill out a FEMA application — a fraudulent FEMA application, which requires extensive personal information, could be a sign of identity theft.
And if you did give your personal information away to a suspected scammer? Call the three main credit bureaus — Equifax, Experian and TransUnion — to freeze your credit, according to the CFPB. You can also call the Social Security Administration's fraud hotline — 800-269-0271 or go to www.ssa.gov/oig — if you suspect someone is using your Social Security Number.
If your property has been damaged, contact your insurance company immediately, and try to settle the claim directly with your insurer before hiring anyone to do repair work. Those scammers can still show up a few months after the weather event, Bukh said.
"Work with licensed lawyers and big reputable companies," he said.
Related:
I fell victim to the 'easiest banking scam in the world,' and $20,000 was stolen from my account. How could I have been such a fool?
Americans are about to have $100 billion less to spend. Here's what's behind it.
This article was originally published by Marketwatch.com. Read the original article here.