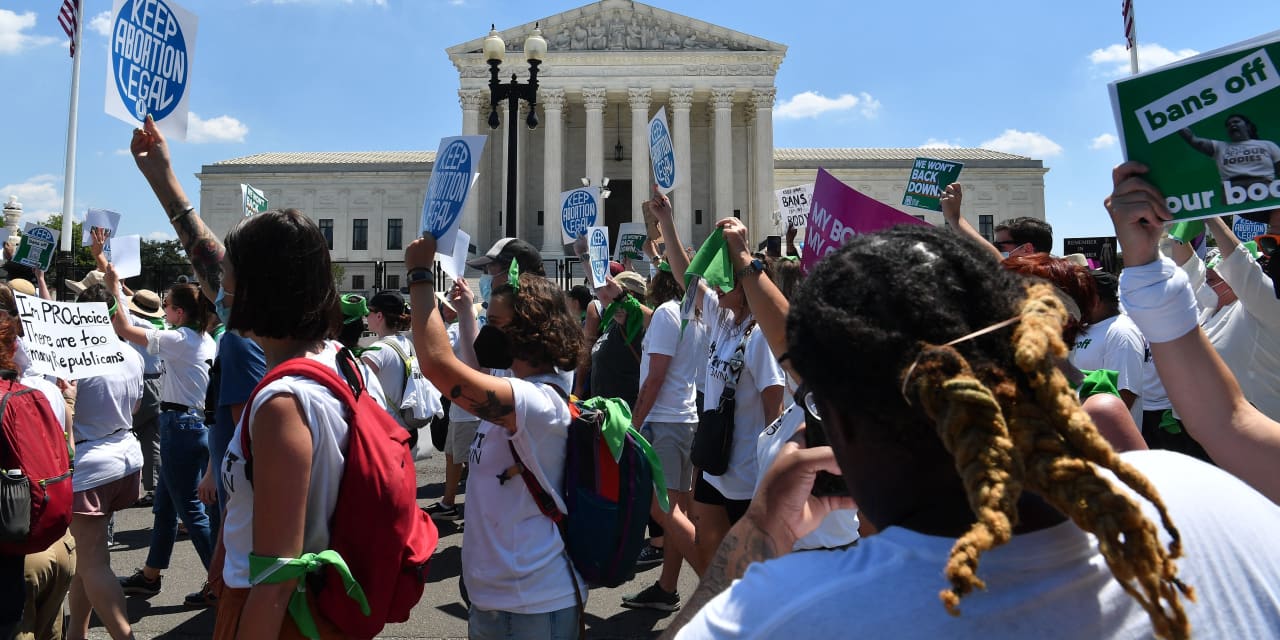 In what they believe to be the first proposal on the issue, shareholder advocates have asked one of the world's largest data brokers to study and release a report on how it can protect information that could be used in abortion-related prosecutions.
Open MIC (Media and Information Companies Initiative), a nonprofit investor advocacy group that focuses on accountability at technology and other companies, submitted the proposal to the Interpublic Group of Cos. IPG, +0.36% about its subsidiary, Acxiom, for consideration at the company's annual general meeting this summer. Acxiom is one of the largest companies that collects and sells customer information for marketing purposes.
After Open MIC shared its proposal with MarketWatch on Thursday and said it has failed to have meaningful dialogue with the company on the issue, Acxiom told MarketWatch it does not collect information that could be used for possible investigations related to abortions.
"Following revocation of the constitutional right to an abortion in June 2022, policymakers are concerned about the use of personal digital data for enforcement of state laws that ban or limit abortion access," the resolution reads, citing legislation introduced in Congress to boost privacy protection and ban data brokers from selling consumers' health information.
The information Acxiom collects that could potentially be accessed by law enforcement includes geolocation data, online activity, internet history, commercial transaction history and inferential data, according to Open MIC's proposal. IPG has not yet released its proxy.
"A big part of our concern really comes down to transparency," Dana Floberg, Open MIC's advocacy director, told MarketWatch on Thursday. It's unclear exactly what data Acxiom collects, Floberg added, as well as "what kinds of measures they may or may not be taking to ensure they keep that data safe, and what they turn over to law enforcement."
The company's privacy policy says it turns over data "as necessary … to respond to law enforcement."
But Axciom spokesperson Erin Tomaski told MarketWatch on Thursday: "As we stated in our discussions with Open MIC, we do not collect personally identifiable information that could be used by law enforcement for abortion-related prosecutions."
Tomaski said the company does not collect data related to medical clinics, hospitals, abortion clinics, schools and places of worship. Additionally, Tomaski said Acxiom updated its privacy policy as a result of its engagement with Open MIC, including to specify that it does not collect people's "movement" data, and does not collect information related to visits to reproductive-health clinics.
Michael Connor, the executive director of Open MIC, said what Acxiom shared with MarketWatch on Thursday "goes beyond what they told us… We're glad they're going public now, but until now they've refused to do that." He said he continues to believe what the proposal is requesting would be useful because the company's board "should exercise due diligence regarding Acxiom's policies."
Open MIC submitted its proposal in mid-December, and Connor said its discussions with both IPG and Acxiom "have not been productive."
The group is specifically asking for IPG's board to consider input from reproductive-rights and civil-liberties organizations, and "issue a public report assessing the feasibility of reducing the risks of abortion-related law enforcement information requests and purchases by expanding consumer privacy protections and controls over sensitive personal data."
In the months since the Supreme Court overturned Roe v. Wade, two dozen states have banned abortion or are considering doing so, according to the Guttmacher Institute, a reproductive-health think tank that supports abortion rights. Examples of online information being used in abortion investigations include Nebraska police last year reportedly using Facebook META, +0.54% messages of a mother who allegedly helped her teenage daughter get an abortion.
Big Tech companies have also been pressured to address concerns around data they collect that could be used in abortion investigations and prosecutions. A week after the Dobbs v. Jackson Women's Health Organization decision overruled the constitutional right to abortion, Alphabet Inc.'s GOOG, -0.80% GOOGL, -0.83% Google said it would delete members' location history for visits to abortion clinics and other sensitive locations.
"Acxiom has the potential to set a standard for the industry in positive (and negative) ways," Floberg said. IPG has signaled its concern over the issue, they added; last year, the company said it would cover travel costs for employees who need abortion care.
This story has been updated with comment from Acxiom.
This article was originally published by Marketwatch.com. Read the original article here.