The COVID-19 pandemic catalyzed a major shift in the way Americans live and work, and a new analysis from the Federal Reserve Bank of New York shows that workers in the U.S. are taking advantage of a widespread shift toward remote work to spend more time sleeping and engaging in leisure activities.
"One of the most enduring shifts [resulting from the pandemic] has occurred in the workplace, with millions of employees making the switch to work from home," wrote David Dam, a former New York Fed research analyst, in a Tuesday blog post.
"Even as the pandemic has waned, more than 15 percent of full-time employees remain fully remote and an additional 30 percent work in hybrid arrangements," he wrote. "These changes have substantially reduced time spent commuting to work; in the aggregate, Americans now spend 60 million fewer hours traveling to work each day."
Dam and his colleagues drew on the American Time Use Survey to better understand how remote workers are using the time saved on commutes. They found "a substantial fall in time spent working," with the "decrease in hours worked away from home only partially offset by an increase in working at home," according to the post.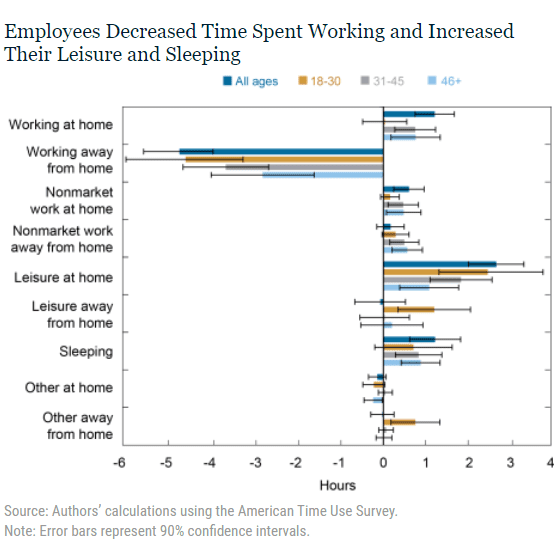 Changes in behavior differ among age groups, with younger Americans using the saved commuting time to engage in leisure activities like eating out, exercising or attending social events. Americans over the age of 30 spent more time on childcare, home maintenance and meal preparation.
The flexibility of remote working arrangements, and the apparent fact that remote workers are able to spend less time overall working, will likely mean that workers will bargain hard to maintain the ability to work from home, Dam said.
"The findings lend credence to the various reports on employees' preferences for flexible work arrangements, given that cutting the commute enables people to spend their time on other activities, such as childcare or leisure," he wrote. "This added benefit of working from home — for those who want it — will be an important consideration for the future of flexible work arrangements."
This article was originally published by Marketwatch.com. Read the original article here.