Shares of 3M Co. MMM, -0.70%, which have pulled a sharp intraday U-turn to trade lower for a fourth straight session, closed Tuesday at a decade low a day before an investor event.
The consumer, industrial and healthcare products company's stock was up as much as 1.6% at its intraday high of $105.17 on Tuesday, but closed down 0.7% at $102.78, the lowest closing price since Feb. 26, 2013. It has shed 4.1% during its four-day losing streak.
Chief Financial Officer Monish Patolawala is scheduled to speak early Wednesday in New York at the JPMorgan 2023 Industrials Conference, and again on March 23 at the Bank of America Global Industrials Conference in London.
The stock had seen intraday gains of as much as 1.3% on March 9 but closed that session down 1.5%; on March 10, the stock shed 1.4% after being up as much as 1.4% intraday; and on Monday, the stock lost 0.6% after being up as much as 0.6% at its intraday high.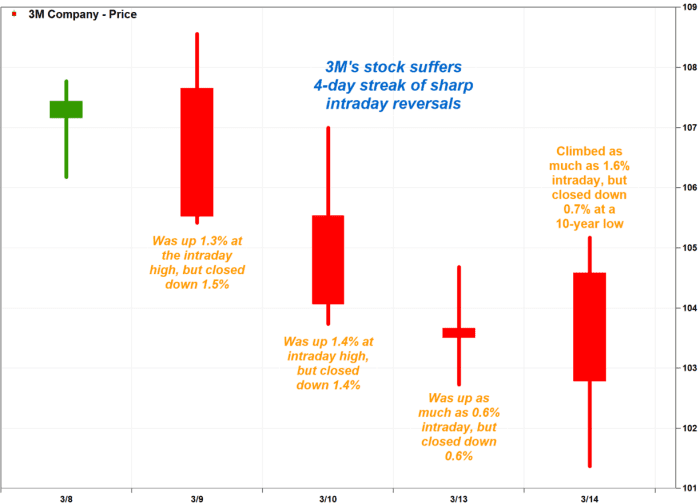 3M's stock has now slumped 14.3% year to date and 18.5% over the past three months, enough to make it the worst performer among Dow Jones Industrial Average DJIA, +1.06% components over those time frames.
The stock had seen a brief blip up in early March, after 3M said government data showed that the "vast majority" of claimants in the Combat Arms earplug litigation had "normal" hearing. But the plaintiffs' lawyers said the data 3M was using was misleading the public.
Don't miss: 3M's stock surges after company says DOD data show 90% of earplug plaintiffs had 'normal' hearing.
At that time, UBS analyst Chris Synder reiterated his neutral rating on the stock, saying based on conversations with sources close to the litigation, the data 3M provided would not be relevant to the case.
Synder said those sources believe 3M faces a total liability of $15 billion from the Combat Arms litigation, but his estimate is for a liability of about $7 billion. That compares with 3M's settlement offer of $1 billion.
This article was originally published by Marketwatch.com. Read the original article here.